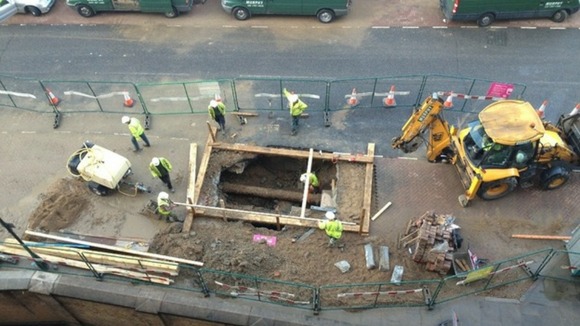 There are just fifty days until the London Games but again today Commuters and tourists suffered fresh travel problems, with signal failures at Kings Cross St. Pancras and a burst water main flooded tracks at Stratford.
London's Central Line, expected to be one of the busiest during the Olympics was disrupted all evening yesterday and will be affected until lunchtime today.
Passengers were stuck on a stranded train after water flooded down a ventilation shaft at Stratford, in east London, on to the tracks and they had to be walked to safety through a tunnel.
A Transport for London spokesman said:
A burst Thames Water main yesterday has severely flooded a Central Line tunnel, affecting signalling, power and communications equipment.London Underground engineers have been working flat-out alongside those from Thames Water to clear up after this, but the sheer volume of water means this operation could take until at least lunchtime today."We apologise for any disruption to customers' journeys and are working to resolve it as soon as possible."We're putting on replacement buses between Leytonstone to Stratford and Mile End to Stratford, but passengers are advised to seek alternative routes - local buses and rail operators are accepting our tickets.
– Transport for London spokesman

The flood of water spread through 800 yards of tunnel.Bob Crow, leader of the Rail Maritime and Transport union said:
We repeat our call for an urgent investigation into just why the Tube has been reduced to daily chaos just weeks away from the city's biggest ever transport challenge.
– Bob Crow, leader of the Rail Maritime and Transport union

There has also been disruption on three other lines due to signal failure at Kings Cross St. Pancras.

The latest problems followed delays yesterday on the Jubilee and Bakerloo lines after signalling and train problems.