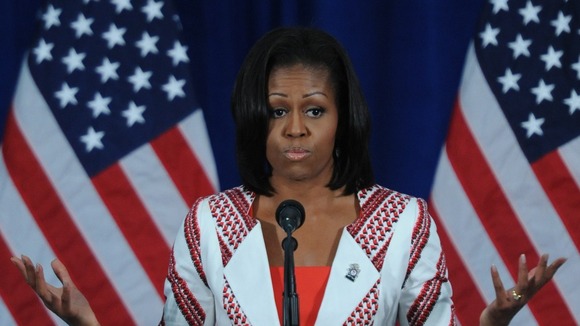 US First Lady Michelle Obama today gave her own personal good luck message to Team USA ahead of tonight's opening ceremony for the Olympics.
Mrs Obama urged America's athletes to "have fun, breathe a bit, but also win", as she met them at their training base in east London.
The First Lady is leading the US presidential delegation which includes a ringside seat at tonight's ceremony.
She began her trip to the capital with a visit to the University of East London, Team USA's home during the Games, and will also take part in a Let's Move! event, as well as joining a reception at Buckingham Palace.
Mrs Obama, sporting a red top and red and white jacket, wished her Olympians good luck at a breakfast event.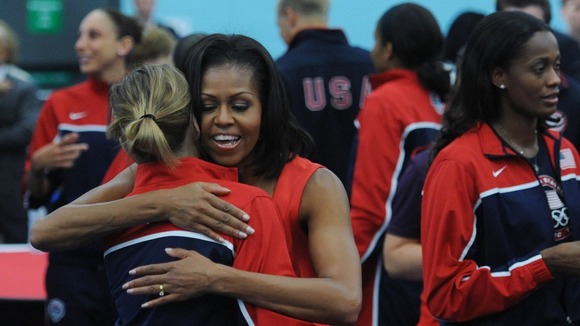 Wow, I'm going to be saying that a lot over the next few days. Wow, wow!

I can't believe I am here, I am beyond proud.

Thank you so much, it's a pleasure and a joy and an honour for me to be here with all of you.

I can't begin to tell you how amazing it is for me to be leading the delegation

You guys look pretty focused and you should be.

You all take advantage of everything - stop, look around you.

In my position sometimes I don't get a chance to breathe, take it in.

Try to have fun, breathe a bit, but also win.
– US First Lady, Michelle Obama

She spoke of her fond memories of the Olympics.
Some of my fantastic memories growing up, and even as an adult, involved watching the Olympics on TV.

I was just in awe of these athletes and my family, we would sit together for hours watching these men and women perform feats of endurance, speed and grace that would have us cheering at the top of our lungs."
– US First Lady, Michelle Obama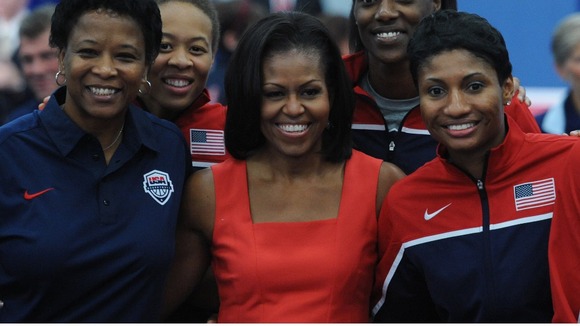 After her speech, Mrs Obama met the athletes, posing for photographs, before leaving for a Let's Move! sporting event at the US Ambassador's residence in central London for about 1,000 US military children plus US and British students.
The initiative, created by the First Lady, aims to combat childhood obesity within a generation.