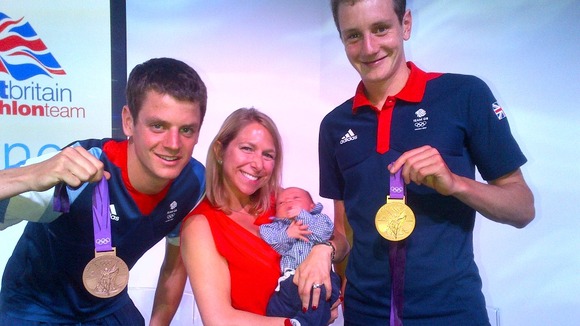 Here are your memories of the London 2012 Olympics.
The overall feeling is of pride, truly exceptional and hope the legacy continues. Here's a photo of me and my two week old son Edward with the Brownlee brothers and their medals. One day, I'd love my son to participate in future olympics and represent our wonderful country. Edward attended two events, his first at just 12 days old.
– Sara Black

@londontonight Watching USAIN BOLT make history was the Highlight of the Games Team JA!
When Mo Farah won the 10,000m and 5,000m races was my favourite moment.. Life will never be the same after both races.. Everyone in my family were so happy even my sick mum got up with joy.. Mo Farah was amazing #TeamGB!
– Maha Gedi

@londontonight my favourite moment of the olympic was when Mr Bean was in the olympic opening ceremony epic opening :)
The closing ceremony was rubbish. there's plenty more British music than simply pop music - which is international anyway
– Shirley Steel

@londontonight Gemma Gibbons our silver medal Judo winner, looking to the sky and mouthing the words, "I love you Mum", still a tear jerker
My most memorable moment was when Kirani James won Gold and caused millions of people to his country of origin about Grenada the Isle of Spice. Loved all team GB's outstanding performance though out which caused me to look at sport wouldn't normally watch. Also was ecstatic about Jamaica 1-2-3.
– Junie Joseph

@londontonight GBproud, my disappoint the closing ceremony failed show British reggae icons musical youth, Aswad, Tipper Irie Maxi Priest.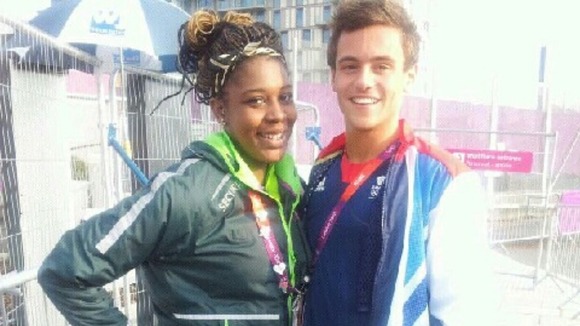 Hi, im Shan and worked for G4S throughout the games this were my best bit was meeting Tom Daley!! Can't wait for the paralympics, oh yeh look out for me im going to be part of the production!
@londontonight, Daniel Craig and the Queen. 100% unique! Our Queen deserves a gold medal for her sense of humour! Rob Evans, Abbots Langley
The best experience of my life....I was a volunteer and met lots of new friends and will never ever forget this....Well done Great Britain

and we have now got a gold post box :-)
– Margaret Jovanovski, Watford

@londontonight Opening Ceremony, Womens Boxing (Nicky Adams), Judo, Mo Farrow, Usain Bolt and the Music from the Closing Ceremony.
I cried, I laughed, I shouted at the tv.I'm exhausted! It was all wonderfull.I feel very proud to be British.
– Sue S

@londontonight the best moment was when tom daily got bronze and the giant voldemort that was awesome :-)
Thrilled to see the victory bouquets presented 1st Mon as helped make them as a student at Writtle College.
– Betty Deeks

@londontonight I enjoyed every event and ceremony, I just wish this will happen every year here in England because I believe where the best
I was a volunteer at the 100th Olympic Games in Atlantic Georgia USA in 1996, I was hesitant that we could meet the customer service levels experienced there, but we have surpassed them. We over delivered and I'm so proud of what we achieved and saddened that they have now finished. Well done London! Sabrina D'Anjou
– Sabrina D'Anjou

@londontonight Closing of the olympics -Rule the world by TakeThat truely emotional and moving so proud to be british.
My favorite 2012 moment was Katherine Copeland and Sophie Hosking winning gold in the womens lightweight double sculls with the reaction "we've won the olympics! We get a stamp!" a fantastic natural moment.
– Lottie, Barnet

@londontonight loved being involved as an opening and closing ceremony performer and gamesmaker! Truly once in a lifetime!
My most memorable part of this Olympic game was seeing Usain Bolt accomplishing "gold medals" in the 100m, 200m and silencing his critics. Amazing Games!!!! Well done London!!
– Sasha, Enfield
The hightlight of the games was Boris johnson dancing to the spice girls that has made me giggle all day and would love to see it again. Many thanks.
– Gary, Deptford

@londontonight I thought the whole games including the opening and closing were outstanding
Our best bit of the London 2012 Olympics was meeting Mark Hunter the rowing silver medalist on the tube train yesterday on his way to the closing ceremony. My 9 year old son is doing an Olympic project to go back to school with and Mark pulled his silver medal out of his bag and gave it to him to hold and have photographs with. Mark told us all about his experience and disappointment of not getting the gold medal. He was such a lovely chap and when he got off the train the whole carriage clapped and cheered him. He may have got a silver medal but he gave us our golden moment.
– Victoria, Hertfordshire