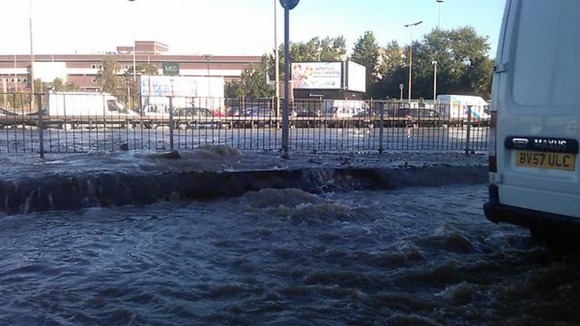 The east-bound section of the A406 has now been re-opened after a burst water main looked set to close a large part of one of London's major roads for days.
The North Circular was hit by flooding this morning, shutting it in both directions.
It centred on the Hendon Underpass in Brent Cross, near the junction with the M1.
Glen Goodman reports.
Our engineers have now been able to get down to the broken pipe and are in the process of repairing it. This has been a large burst which has caused extensive damage to the carriageway. The east-bound section of the A406 has now been re-opened and we will be working through the night to try and get traffic moving both ways before tomorrow's rush hour.

The vast majority of customers who were without water this morning should now have their supplies restored and we are working to ensure those remaining - about 100 properties which are either high-up or at the end of the network - back on as soon as possible.

We're really sorry for the disruption this is causing. We're doing everything we can to get things back to normal as soon as we can.
– Thames Water

Transport for London has advised drivers to avoid the A406 North Circular Road at Brent Cross, as the burst Thames Water main continues to cause serious disruption in the area.

The leak, which occurred at around 8am this morning, led to millions of litres of water flooding the carriageway, causing a full closure of the A406 in the area, with traffic being diverted via the A41 Hendon Way.

TfL has worked hard with Thames Water to clear the surface water from the carriageway and reopen the roads as quickly as possible.

The north-eastern carriageway reopened at around lunchtime and the eastbound lanes have also now reopened. However, the westbound carriageway remains closed and traffic is busy on all approaches.

TfL's MD of Surface Transport, Leon Daniels, has called an explanation from Thames Water and TfL is pushing Thames Water to work around the clock to complete repair works and reopen the carriageway urgently.

Thames Water are currently advising that repair work will last through the night and TfL is remaining in constant contact with Thames Water, with the expectation that at least one lane of traffic can be reopened westbound as soon as possible.
Tens of thousands of Londoners have been inconvenienced by this burst water main and I assure everyone that we are pushing Thames Water to reopen the carriageway as quickly as possible. In the meantime, drivers should avoid the area and check our website for the latest information.
– Leon Daniels, Managing Director of Surface Transport at TfL