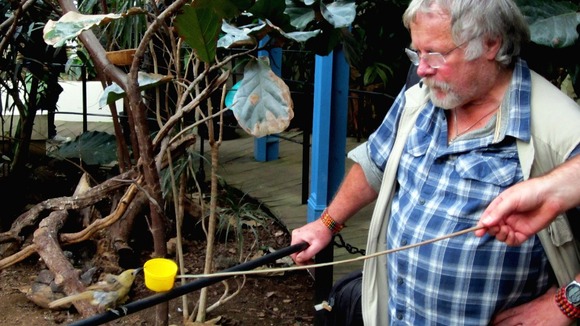 Twitter was given a rather more literal meaning, as Bill Oddie translated bird calls into tweets at ZSL London Zoo.
As the zoo's aviary woke up, Oddie and head bird-keeper Adrian Wallis were on hand to interpret the chirps of its tropical residents and summarise the results in 140 characters.
September sees a flurry of activity in the bird world as migration season begins, and so the event was held to mark the occasion.
Toby Sadler has this report on Bill Oddie's initiative.
According to Oddie, trained ears can pick up on the subtle differences that alter the meaning of a bird call.
Every bird has a bit of a vocabulary. They have seven different areas of sound, and they will all have meaning. It might be a young bird asking for food, or a bird saying this is my territory he said.
– Bill Oddie

One of Oddie's Tweets read:

That red billed toucan was calling for a girlfriend. Sounds to me like he is shouting for some company! #BirdsThatTweet

Another Tweet read:

Oddie said he first realised the power of Twitter when posting about badger culling.
I got a huge response, and that included little soundpieces, speeches, films, video and photographs.

I thought in 140 characters all you could really say was 'good morning, it's going to be a nice day today' and you'd run out of space, but the fact is you can send out all these other pieces of information. It's a very powerful tool.

Since joining Twitter, I've been able to interact with viewers, fans and other bird watchers from around the world.
Throughout the morning, @BillOddie, @zsllondonzoo and @TwitterUK were sharing bird-related facts, stats, links and popular resources under the hashtag #BirdsThatTweet.