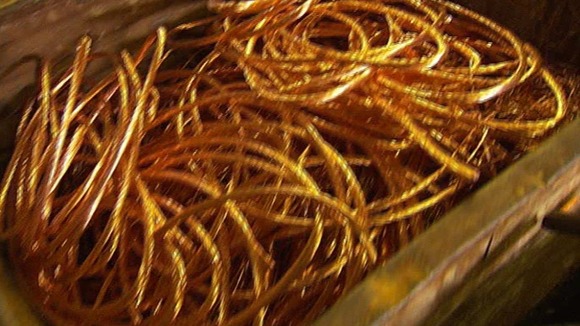 Police have carried out raids to tackle rogue metal traders, after a six-month covert investigation into the sale of stolen metal to scrap dealers.
It is the latest operation against a crime which has soared in recent years, as prices for aluminium, copper and lead have increased.
Gangs have created misery by targeting rail and Tube lines, graveyards and war memorials.
This report from Ben Scotchbrook.
Police officers carried out the dawn raids at six addresses across North Hertfordshire, making arrests in connection with the stealing and selling of stolen metal.
The raids were part of Hertfordshire Constabulary's Operation Precipitate, and were the culmination of a six-month covert investigation into the sale of stolen metal to scrap dealers in Hertfordshire.
The six men were arrested during the early morning raids on suspicion of conspiracy to steal. Those arrested were three from Hitchin aged 30, 37 and 44 years old, a 47 year-old from Royston, a 35 year-old from Letchworth and a 32 year-old from Stevenage.
This has been a carefully planned covert operation and these arrests are the result of several months' work. We have been gathering evidence and working with local scrap dealers to identify stolen metal and those selling it.

There has been a marked decline in large scale metal thefts over the last six months, which has been partly down to the work carried out as part of Operation Devon which is Hertfordshire's planned response to the theft of metal.

Hertfordshire Constabulary has also been working closely with the scrap dealers throughout the county, building up good relationships which help to target those stealing metal.
– Detective Chief Inspector Liz Hanlon, lead officer for Operation Precipitate
The Police Authority and Constabulary have made tackling metal theft a high priority.

It is pleasing to see these efforts pay off with another set of arrests.

Metal theft is an unpleasant, anti-social and dangerous crime.

It can deprive home owners of their security, church goers of their place of worship and hospitals of vital communication systems.

I trust the courts will recognise the serious nature of these crimes and seek to impose the strongest penalties.
– Police Authority Chairman, David Lloyd