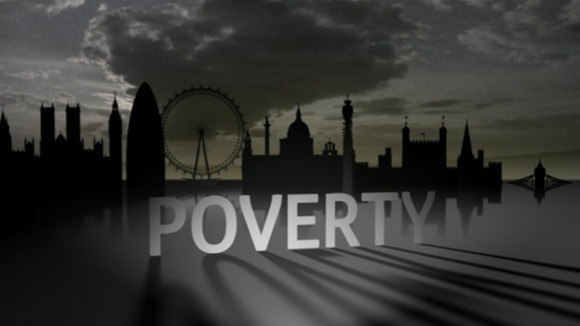 If you've beenwatching this week you'll know we have shown a series of reports on poverty in London.
We've examined howsome people are struggling to afford food - and relying increasingly on'foodbanks' to feed their families.
A quarter of amillion Londoners are living in cramped and overcrowded conditions - we'vereported on the rise in the homes known simply as 'sheds with beds'. And we'veexplored how the older generation are suffering - struggling to find work, andpay rent.
Watch Ria's reports from this week below followed by your reaction and own stories.
I have lived in newham all my life .now there are to many people living here not a enough houseing and not enough jobs
– Paul from Newham
It was very sad to hear of Yvonne's plight this evening on the ITV news, sad that a woman of pensionable age has ended up living in an Air raid shelter.

However Lewisham like most boroughs has only a finite amount of money to help house everyone. And when its giving out home to every immigrant/ asylum seeker there is clearly never ever ever going to be enough to go round. The house next to my Mother-in-Laws home in Sydenham has been let out to a league of nations, none of hume have looked after the property, every time its re-let the Bedrooms have to have new Mattresses ( its a x4 bed roomed house ) & the Kitchen & bathroom always needs attention. So the council have to pick up the bill. So it goes on.

We must get our priorities right, but we continue no to do so, & so we will see lots more Yvonne's in the future.
I am working and also going to college. I am working 2 jobs to get me by. It's was 3 but I found it was too much for me to handle and quit one. Even though I am working and trying so hard I couldn't afford to keep the roof over my head and ended up loosing my studio flat. Its bad enough i couldn't even afford food at the end of the month. I have a 6 year old a 5 year old and a 10 month old.

I can not live with my partner as after going to the citizen advice they told me we would be financially worse off. After showing them my expenditures they asked me how was I even able to get by on my wages because I so much coming out to all important bills. They tried everything to help but at no avail. So now I had to go back to my mum otherwise I would have to quit my jobs and go back on benefits.

There's no help there when you've found a job to help you to keep that job. You end up in debt because of miss information from job centre. I had to get a debt relief order because of this.

I am now back at square one homeless and sofa surfing.

I know a lot of guys in the same situation as I am since this co-elision took root. People are becoming homeless worse off with no help. But the irony is I am actually working.
– Naz
I am a 53 year old woman who is disabled with rheumatoid athritis. I have a mobility impairment and also suffer with depression. I was evicted from my home in April this because my ex partner was the tenant and i was only part of the household. I registered as homeless and now the council are telling me that i made myself intentionally homeless and can't help me? I am appealing against the decision but i feel that this is very unfair as it was no fault of mine that i was evicted and yet they are blaming me!
– Julie Ellis, Newham
For 2 weeks I've been homeless for with my 3 children, 2 of which have disabilities including autism. We have been advised to move to Slough or Kent for a bedsit accommodation but need to stay in Surrey as I look after my diabetic mother, my daughter has college and I've lived in the borough all my life. Private renting wont touch you if you mention the word DSS so what are you supposed to do? If I could drive then a different location would be OK. Runnymede borough council need to sort out who really needs a council property.
– Beverley
Prior to any housing benefit being granted the premises should be inspected to make sure the property is fit for purpose and rent fixed and controlled accordingly.
– Barry Newton Hemel Hempstead.
What a disgraceful state to be in we send billions abroad to help stop other people from starving but our own people are?

What sort of Government allows this to happen?

The whole situation is outrageous and embarrassing - hold your heads in shame all Government Ministers.
– Bill