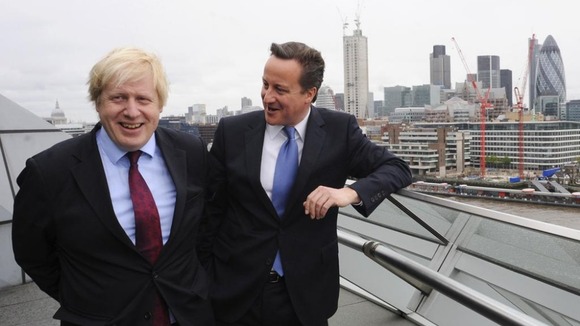 Boris Johnson has used his platform speech to the Conservative Party Conference to insist he is completely loyal to David Cameron, hailing the "fantastic job" he is doing as Prime Minister.
Boris made a point of singling Mr Cameron out for praise, in response to speculation that he was positioning himself as a future leader of the Conservatives.
He commended the Prime Minister for his "firm leadership" and his ability to make "tough decisions", before predicting that he would lead the Tories to victory in a general election scheduled for 2015.
"I was please to see that you called me a blond-haired mop in the papers. If I am a mop, David Cameron, you are a broom - a broom that is clearing up the mess left by the Labour government, and a fantastic job you are doing.

"I congratulate you and your colleagues George Osborne the dustpan, Michael Gove the J-cloth, William Hague the sponge. It is the historic function of Conservative governments over the last 100 years to be the household implements on the floor of the house, so effective at clearing up after the Labour binge has got out of control."
– Boris Johnson, Mayor of London.

Earlier this morning, David Cameron denied that he was envious of Boris Johnson's "rock star status", after the Mayor was mobbed on arrival at the conference in Birmingham.

The Prime Minister told ITV1's Daybreak that he was resigned to the fact that other people might be more popular than him.
"There are lots of people that are more popular than me in this world, because I have to be the one who takes the difficult decisions on behalf of the country to recover us from the dreadful state that Labour left us in.

"That's just life, but in politics what matters is you do your duty, you do the right thing for your country."
"I think it is great that we have got someone with rock star status in the Tory Party.

"I think it's fantastic that he can come to Birmingham, he is a very successful Mayor of London, he is doing a great job.

"I have got the opposite of tall poppy syndrome. I want to have big stars in the Conservative Party that can carry our message to the country, and Boris is definitely one of those."
– David Cameron

The Prime Minister speaks to Aled Jones on ITV1's Daybreak.

Our Political Correspondent Simon Harris reports on Boris Johnson's speech.