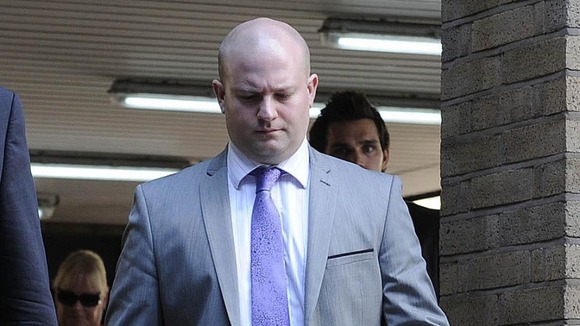 A police officer, who crashed into a cyclist while responding to emergency call, has escaped a jail sentence.
Southwark Crown Court heard that David Lynch, 31, had caused "catastrophic" injuries to promising singer-songwriter Joseph Belmonte, when he lost control of his patrol vehicle, while speeding over a hump-backed bridge in Hackney last year.
The 31-year-old from Hitchin in Hertfordshire has been handed an eight month suspended sentence after being found guilty of dangerous driving.
Judge Jeffrey Pegden QC said:
"Your speed was such that your vehicle took off and was airborne.

"When it landed you caused gouge marks in the road.

"You lost control of the vehicle, first steering to the left and clipping the curb and then to the right and hitting Mr Belmonte from behind at a speed of 45mph.

"He suffered the most catastrophic, life changing injuries.

"His life and career as a musician have been ruined and he still suffers major distress and faces future significant surgery and treatment."
But the judge said that, while deciding upon the appropriate sentence, he had been influenced by the officer's remorse:
"What has weighed significantly with me is your intense guilt, remorse and utter distress at the injuries you caused that day, coupled with your immediate and appropriate response not only at the scene but in your determined efforts afterwards, until you were told it was inappropriate, to seek information about the welfare of Mr Belmonte."
Lynch, who has since resigned from British Transport Police, was also ordered to carry out 240 hours of community service and subjected to a 7pm to 6am curfew for 12 weeks. He was also banned from driving for 15 months and ordered to pay £1,000 towards prosecution costs.