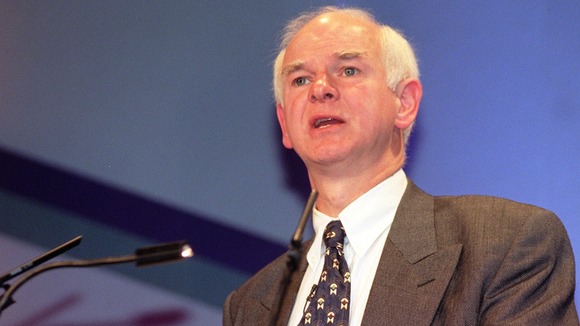 All options for airport expansion are "back on the table", the man charged by the Government with recommending future aviation policy has said.
There was "no clear consensus" on the best way forward for UK airports, said Airports Commission chairman Sir Howard Davies.
He said his commission would try to produce a final report by summer 2015 which would give the government of the day the opportunity to make decisions quickly.
Speaking in London as he introduced his five other commissioners, Sir Howard said he was aware of the criticism of some, including London Mayor Boris Johnson, that the commission's 2015 timescale was too long.
Piers Hopkirk reports:
Mr Johnson said that if the Heathrow third runway option went ahead it would "cause real convulsions in London" because it would bring "a dramatic deterioration in the quality of life of hundreds of thousands of people around the city".
Mr Johnson supports a new Thames Estuary airport while architect Lord Foster has submitted his own estuary airport plan.
Labour had been keen on a third runway at Heathrow Airport but on coming to power in 2010 the coalition Government ruled this out.
The arguments are well understood. Some are political, some are not.

What we are trying to do is to make sure the work we do is useful and allows decisions to be made more quickly.

The coalition Government is prepared for us to look broadly at all the options on the table as well as some that are not on the table so that a government can come to it after the General Election with an open mind.

I don't think there is a good enough consensus on aviation policy for the Government to make a decision now.

Maybe I'm being a bit indulgent towards them (the Government) but this is a very difficult subject.

There is a strong case for a commission which tries very hard to rebuild a consensus for what we need in this country.
– Sir Howard Davies

Sir Howard Davies admits the commission will look at all options. So as well as a third runway at Heathrow, it will look at the so-called Boris Island airport on the Isle Of Grain and the potential expansion at Stansted.

It is also considering a dual hub airport dubbed Heathwick - with a high speed monorail linking Heathrow and Gatwick.

There is the possibility that the High Speed rail link will allow for expansion of Birmingham Airport.

There is even a plan to fill in surrounding reservoirs, put a stretch of the M25 through a tunnel and move the whole of Heathrow westwards.

Cardiff Airport could be regarded as Heathrow's "sixth terminal" when fast rail links are completed.

Mark Reckless, Conservative MP for Rochester and Strood is worried about the environmental fallout if there is a Boris Island airport on the Isle Of Grain in the Medway in South East England:

Sir Howard said he very much hoped Labour would co-operate with his commission, that no members of the commission had any particular airport expansion preferences and that it was "a bit harsh" to say the commission was "business-biased".

Sir Howard promised that before the commission brings out its first report it would publish the first of what are expected to be a series of consultation papers - with the first being about aviation demand forecasts.

He said other papers could include the subject of airport noise and compensation for it, and climate change. He promised that there would be public meetings on various topics.

Sir Howard said he was aware of those who said the commission was the way for the Government to kick the subject of aviation into the long grass.
Some of the criticism assumes that we will go into a huddle for a couple of years and then come out with 'X solution'. It's not going to be like that.
– Sir Howard Davies

Former Financial Services Authority chief Sir Howard Davies has introduced his five-strong team that will form the Government-ordered Airports Commission.

Sir Howard, who is also a former CBI boss, joked that his fellow commissioners were acting "for the love of it" as all have chosen not to be paid.

These are the other commissioners:
Sir John Armitt - has had the massively high-profile job as chairman of the Olympic Delivery Authority and is a former chief executive of rail infrastructure company Network Rail. Previous posts have included boss of Union Railways, the company responsible for developing the HS1 - the high-speed Channel Tunnel rail link.
Professor Ricky Burdett - Professor of Urban Studies at the London School of Economics and director of the LSE Cities research centre. He was chief adviser on architecture and urbanism for the London 2012 Olympics and architectural adviser to the Mayor of London from 2001 to 2006.
Professor Dame Julia King - Vice Chancellor of Aston University and a member of the Committee on Climate Change. She held a number of senior business and engineering posts at Rolls-Royce, in both the aerospace and marine businesses, between 1994 and 2002.
Geoff Muirhead - The former chief executive of the Manchester Airport Group. He was responsible for leading the planning and delivery of Manchester Airport's second runway - the only full-length runway constructed in the UK since the Second World War.
Vivienne Cox - A former chief executive and executive vice president of BP Alternative Energy and a former member of the BP Executive Management Team. She is the lead independent director on the board of the Department for International Development.
The commissioners will be assisted by a panel of experts and can call on Government departmental funds to cover any extra work involving consultants if necessary.
Operations Editor at Flight Global David Learmount said the commission was full of experts:
Aviation is vital to the UK economy and we need to have a long-term aviation policy which meets the challenges of the future.

Sir Howard and his team will now take forward this vitally important work for the Government and bring a much-needed fresh perspective to the debate.
– Transport Secretary Patrick McLoughlin

Under a local agreement, no extra runway can be built at Gatwick before 2019, although expansion at the West Sussex airport will be among options looked at by the Davies Commission.
We welcome today's launch of the commission. The detailed work and analysis on how to maintain the UK's status as an international aviation hub can now really begin.

At Gatwick, we have already announced that we are beginning detailed studies on the options for a second runway. We know that Gatwick can play a critical role in addressing the current and future capacity problems in south east England.

A new runway at Gatwick could be more affordable and practical than other options and give passengers a greater choice of routes to key destinations.

At Gatwick, we have the space, the capability and the access to financial resources. Critically, we would have a significantly lower environmental impact when compared, for example, to a third runway at Heathrow.
– Gatwick chief executive Stewart Wingate
Sir Howard is obviously doing the best he can with the hand he was dealt, but the Government must look again at the excessive length of time before they allow him to report.

The uncertainty already caused by years of delay on airport expansion is damaging enough without waiting even longer to make a decision.

It seems that the Davies Commission will have solid conclusions based on extensive research ready well before 2015 - business needs to know what they are as soon as possible. We must remember that airports are not standalone installations - delaying this question for three years will have knock-on effects on surface infrastructure like rail connections.
– Corin Taylor, senior economic adviser at the Institute of Directors
We hope the Davies Commission will build consensus on the UK's requirements for hub capacity and then rigorously assess every option against those needs.

None of the options for hub airport capacity is easy. Every choice, including doing nothing, has its consequences.

However, a clear positive decision would stimulate economic growth, create jobs, and help secure Britain's competitiveness in a changing world.
– A Heathrow spokesman

Prime Minister David Cameron's official spokesman denied the issue had been kicked into the long grass, saying it would take "time and work" to address the issue.Asked about the London mayor's concerns, he said:
People on different sides of the debate have particular entrenched views.

Often those different options and different ideas about how we should apporoach the issue of airport capacity are put forward without the evidence.