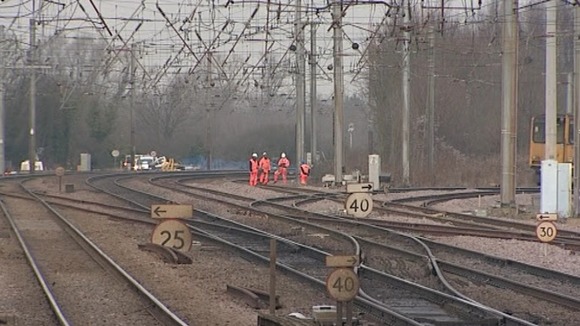 Passengers were forced to walk down tracks and commuters have faced massive delays in the cold.
There's been more than 24hours of chaos on trains coming into and out of London.
The problems were caused yesterday afternoon - after overhead cables were damaged in Hertfordshire.
Services in and out of King's Cross were affected and rail lines around Hitchin had to be shut.
First Capital Connect released this statement about the revised timetable today on the Great Northern route:
Further problems with overhead lines means we cannot run trains between Hitchin and Letchworth Garden City which is on the route used by our services between London and Cambridge /King's Lynn.

This also affects services for Peterborough, which is often the next destination for trains arriving in London from Cambridge.

Trains and train crew have also been displaced either side of the problem area which also seriously affects the service we can offer to all stations.

Network Rail does not expect to complete repairs until early Wednesday morning.

A revised timetable is now in place until the end of the day.

For Cambridge and stations to King's Lynn, plus village stations south of Cambridge, we strongly advise customers to take Greater Anglia trains from

Liverpool Street station.

Please accept our apologies for the difficulties this will cause many of you.
For more information visit the First Capital Connect website.