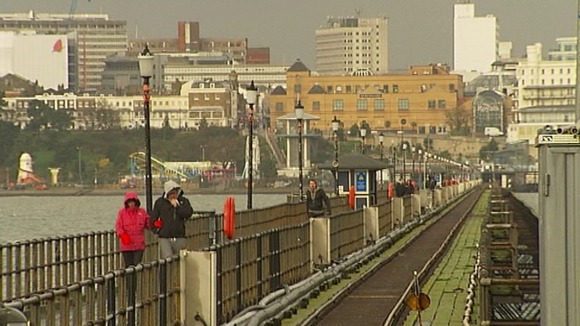 Southend in Essex has recorded the biggest rise in house prices among major British towns and cities over the past year.
Research by the Halifax shows the average selling price in the Essex seaside town is more than £198,000 pounds - which is 14.8 per cent up on last year.
Two more towns in our region - St Albans (average selling price £371,131) and Dartford (average selling price £209,557) - make up the top five.
Uxbridge was in the top 10 with a 11.7% hike in house prices - average selling price £309,891. Also in the top 10 was Bromley with a 11.5% rise in property prices - average selling price £286,482 .
The majority of the worst performers are outside southern England.
Nine of the 10 towns which saw the biggest decline in prices are outside the South, reflecting the continued regional divide in the property market.
Although Grays in Essex was one of the towns with the biggest drop in house prices, with a decrease of 7.3% (average selling price £178,864)
Nationally, conditions in the housing market have been largely unchanged over the past 12 months with little overall movement in either house prices or sales for the second consecutive year.

This picture, however, conceals considerable local differences.

House prices are expected to be strongest in London and the South East as this part of the country performs best in economic terms.
– Halifax housing economist Martin Ellis

Mr Ellis expects continuing broad stability in house prices nationally in 2013, with the North/South divide in price performance likely to persist next year.

Watch Liz Wickham's report. She spoke to Deputy Leader of Southend Council, Cllr John Lamb in her report.