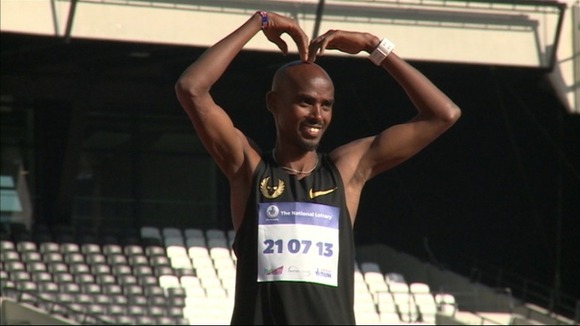 We've had reports from some of those who registered for 'The National Lottery Anniversary Run' this summer that they're still having problems with their bookings. The event's website was down for over six hours yesterday, when hopefuls trying to get a place in the five mile fun run stormed the system. Only 2, 000 got through when registration opened at 9am.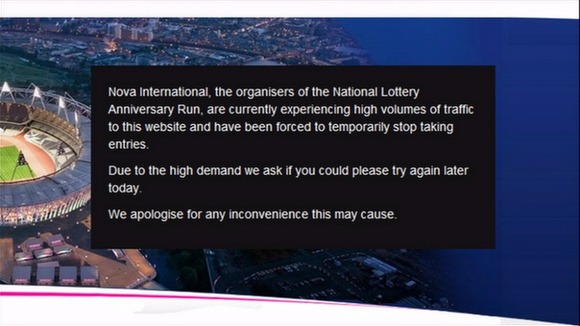 The company in charge of the website apologised for the crash, issuing the following statement:
"Due to technical difficulties with the website caused by exceptionally high demand, we temporarily stopped taking entries for the National Lottery Anniversary Run this morning and apologise for any inconvenience this has caused.

The public are clearly excited about the opportunity to be one of the first to run into the Stadium since the London 2012 Games ended. We are working hard to get the site up and running and will continue to keep the public up to date."
– Nova International spokesperson

But we've now heard from some of the other runners who were able to register until the 10, 000 places were filled at 7pm last night, saying they still haven't received an email confirmation of their place in the event. Others say payment hasn't been taken from the account.

We contacted Nova International, and a spokesperson told ITV News London that they weren't aware of a problem with the system.

Advice to customers who are still experiencing problems:
"If you have not received an email confirmation of your registration, it is most likely that it's either gone into your junk mail folder or the wrong email address was keyed in when you applied. If you're unsure, please email info@nationallotteryrun.com.

If you have received your registration ID then payment should have been taken from your account immediately. If it hasn't we will honour the confirmation of your place, but please call 0191 272 7033 to check that payment has been taken."
– Nova International spokesperson