Cost of dying 'as high as £7,000'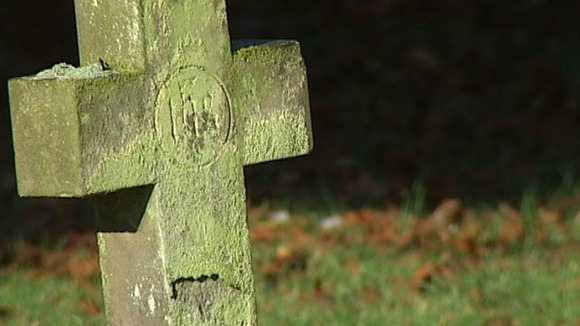 The cost of dying can be as high as £7,000 when funerals and other costs such as flowers and wakes are added up, according to a study.
The GMB union said the most expensive burials were in Lambeth, London, at £5,329, and the City of London (£5,1850) while crematoriums cost £3,464 in the City of London.
Paul Kenny, general secretary of the GMB, told the union's annual conference in Plymouth:
At a time when the cost of living occupies most people's concerns, it will be a real shock to many that the cost of dying is so high.

While GMB realises that the public are not queing up to test the services, it remains a fact that few have any idea of how much even a simple burial or cremation actually costs.

Someone is making a lot of money out of people's bereavement."
The top 20 councils for the cost of burial were:
Lambeth £5,329
City of London £5,185
Wandsworth £4,190
Merton £4,125
Croydon £4,106
Enfield £3,665
Bromley £3,647
Kensington & Chelsea £3,600
Bexley £3,256
Richmond upon Thames £3,190
Barking and Dagenham £3,170
Spelthorne £2,992
Southwark £2,984
Havering £2,955
Hammersmith & Fulham £2,940
Rushmoor £2,837
Southend-on-Sea £2,730
Barnet £2,692
Brent £2,675
Exeter £2,650
The other councils in the top 20 for cremation charges were said to be:
Wandsworth £2,350
Croydon £2,265
Lambeth £2,132
Stoke-on-Trent £2,045
Manchester £2,012
Rushmoor £1,984
Walsall £1,892
Sutton £1,865
Sandwell £1,837
Bexley £1,836
Wolverhampton £1,811
Barnet £1,798
Merton £1,786
Ipswich £1,743
Bristol £1,675
Coventry £1,661
Sefton £1,655
Spelthorne £1,648
Kingston upon Thames £1,635