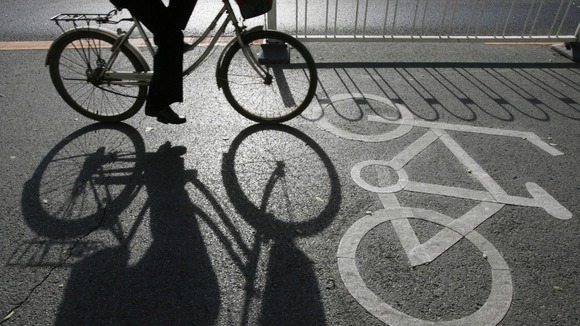 The Mayor of London says lorries need to be made safer for cyclists so that more people will turn to pedal power. Alongside the Transport Minister, Boris Johnson is unveiling a raft of measures designed to make it less dangerous for cyclists and Heavy Goods Vehicles to travel side-by-side. And there could one day be a charge for HGVs which don't meet the new standard.
The proposed London Safer Lorry Charge is partly modelled on the London Low Emission Zone, which charges up to £200 a day for commercial vehicles that do not meet tough emission standards. A new HGV Task Force would expand enforcement capacity against problem HGVs.
On the day Boris Johnson revealed plans to make it safer for cyclists in London, a woman cyclist was killed in West Dulwich. The woman, thought to be in her 30s, died near the junction of Gallery Road and Thurlow Park Road after colliding with a lorry.
"Improving road safety is a priority for FTA members and many lorry operators already work to the highest standards. A huge amount of investment has been made by responsible operators who have gone over and above the minimum legal requirements to ensure that safety equipment is fitted to their vehicles. There are better ways of achieving safe roads for all road users.

"We need to see cyclists taking responsibility for their actions, obeying traffic regulations, giving space to HGVs making manoeuvres and generally riding responsibly. Unless you also improve the behaviour of cyclists, the problem will not improve in the way that everyone wants."
– KAREN DEE, FREIGHT TRANSPORT ASSOCIATION