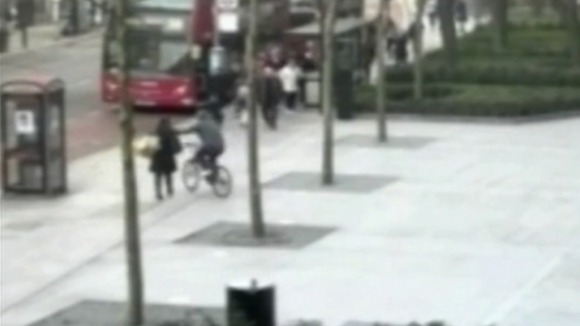 Dramatic CCTV footage shows the moment thieves brazenly steal personal items from members of the public in broad daylight.
The Metropolitan Police has released the videos as part of a crack-down on thefts of mobile phones and other valuables.
Latest statistics show around 10, 000 phones are stolen per month in London - accounting for half of personal robbery, and almost 80% of theft from the person. iPhones make up around half of all mobiles stolen.
The first video shows a busy road in the capital. When the picture zooms in, a person on a bike can be seen snatching something from a pedestrian walking along the pavement.
More than 5, 000 officers will take to the streets today in a coordinated day of action aimed at driving down personal thefts.
Officers have carried out dawn raids, and will be making stop checks today, as well as giving advice to owners of pawn shops and other stores where thieves may try to sell on stolen goods.
The second video shows a cyclist approaching a pedestrian on a walkway and snatching something before cycling off.
"Mobile phone related crime is a high priority for the MPS -work continues day in and day out to target those responsible and the networksthey use to sell on stolen property, but big, highly visible operations liketoday play a major part in the fight against crime and demonstrates there is nohiding place for criminals.

"Crimes like burglary, robbery and theft have a huge impacton the people who are victims. The operation aims to stop criminals stealing inthe first place but registering your phone can really help us get your propertyback to you and bring successful prosecutions against those who are targetingthese high value devices.
– Commander Stephen Watson