Historic London Medical Records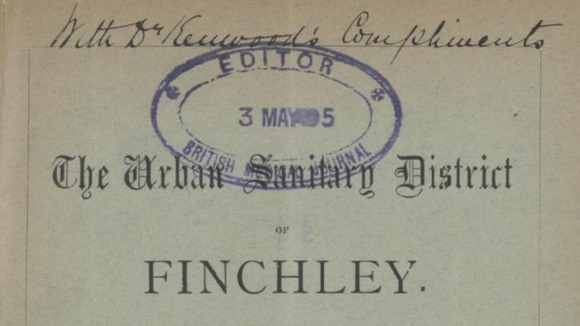 Thousands of documents providing fascinating insight into life in 19th Century London have been published for the first time today by the Wellcome Library.
The reports were complied annually by the Medical Officers of Health in each district and detail the diseases which plagued England's capital city.
The difficulties of life in London at the time are laid bare in graphic accounts detailing appalling living standards, food shortages and shockingly high infant mortality rates.
Below is a list of the diseases which were the most deadly at the time for inhabitants in each borough, along with links to the reports themselves.
Barking (1985)**
· Whooping cough - 22 deaths
· Phthisis - 17 deaths
· Enteric Fever - 13 deaths
To see a full breakdown of medical records for Barking and Dagenham click here
Finchley (1984)**
Diseases of respiratory organs other than phthisis - 37 deaths
Diseases of nervous organs (including apoplexy and convulsions) - 33 deaths
Diseases of circulatory organs - 19 deaths
To see a full breakdown of medical records for Barnet click here
Erith (1903)**
Scarlet Fever - 53 deathsDiphtheria - 38 deathsErysipelas - 25 deaths
To see a full breakdown of medical records for Bexley click here
Willesden (1893)**
Diseases of the respiratory system - 170 deaths
Constitutional diseases - 159 deaths
Miasmatic diseases - 132 deaths
To see a full breakdown of medical records for Brent click here
Bromley (1985)**
Bronchitis, Pleurisy and Pneumonia - 64 deaths
Heart disease - 36 deaths
Phthisis - 32 deaths
To see a full breakdown of medical records for Bromley click here
St Giles (1881)**
Diarrhoea - 36 deaths
Whooping cough - 29 deathsMeasles - 22 deaths
To see a full breakdown of medical records from Camden click here
St Olave (1897)**
Pneumonia, bronchitis, pleurisy - 52 deaths
Phthisis - 32 deaths
Zymotic diseases - 26 deaths
To see a full breakdown of medical records from the City of London click here
St Martin-in-the-Fields (1856)**
Phthisis - 81 deaths
Bronchitis - 45 deaths
Pneumonia - 30 deaths
To see a full breakdown of medical records from the City of Westminster click here
Croydon (1893)**
Tubercular diseases - 18 deaths
Pulmonary consumption - 13 deaths
Pulmonary diseases - 28 deaths
To see a full breakdown of medical records from Croydon click here
Acton (1893)**
Diarrhoea and dysentery - 60 deaths
Scarlet fever - 10 deaths
Puerperal fever - 6 deaths
To see a full breakdown of medical records from Ealing click here
Edmonton (1894)**
Diarrhoea and dysentery - 28 deaths
Diphtheria - 22 deaths
Whooping Cough - 17 deaths
To see a full breakdown of medical records for Enfield click here
Woolwich (1894)**
Measles - 39 deaths
Scarlet Fever - 22 deaths
Diarrhoea - 19 deaths
To see a full breakdown of medical records for Greenwich click here
Hackney (1862)**
Scarlet Fever - 21 deaths
Whooping Cough - 16 deaths
Croup - 7 deaths
To see a full breakdown of medical records for Hackney click here
Fulham (1856)**
Respiratory diseases - 117 deaths
Consumption - 67 deaths
Diarrhoea - 48 deaths
To see a full breakdown of medical records for Hammersmith and Fulham click here
Tottenham (1893)**
Scarlet Fever - 145 deaths
Diarrhoea - 61 deaths
Diphtheria - 50 deaths
To see a full breakdown of medical records from Haringey click here
Harrow (1895)**
Bronchitis, Pneumonia and Pleurisy - 21 deaths
Heart Disease - 6 deaths
Phthisis - 5 deaths
To see a full breakdown of medical records from Harrow click here
Romford (1898)**
Diphtheria - 23 deaths
Scarlet Fever - 22 deaths
Typhoid Fever - 18 deaths
To see a full breakdown of medical records from from Havering click here
Hillingdon (1894)**
Hillingdon - 14 deaths
Heart Disease - 7 deaths
Phthisis - 7 deaths
To see a full breakdown of figures from Hillingdon click here
Chiswick (1893)**
Bronchitis, Pneumonia and Pleurisy - 66 deaths
Heart Disease - 32 deaths
Phthisis - 26 deaths
To see a full breakdown of medical records from Hounslow click here
St Luke (1894)**
Diphtheria - 15 deaths
Phthisis - 12 deaths
Scarlet Fever - 9 deaths
To see a full breakdown of medical records for Islingdon click here
Kensington (1856)**
Diarrhoea -62 deaths·
Measles- 30 deaths·
ScarletFever - 20 deaths
To see a full breakdown of medical records from Kensington and Chelsea click here
Kingston-upon-Thames (1893)**
Scarlet Fever - 7 deaths
Typhoid - 2 deaths
Diphtheria - 5 deaths
To see a full breakdown of medical records from Kingston-upon-Thames click here
Lambeth (1899)**
Diarrhoea - 46 deaths
Scarlet Fever - 42 deaths
Measles - 29 deaths
To see a full breakdown of medical records from Lewisham click here
Lewisham (1863)**
Diarrhoea - 46 deaths
Scarlet Fever - 42 deaths
Measles - 29 deaths
To see a full breakdown of medical records from Lewisham click here
Wimbledon (1893)**
Diarrhoea - 16 deaths
Measles - 5 deaths
Scarlet Fever - 3 deaths
To see a full breakdown of medical records from Merton click here
Newham (1893)**
Whooping cough 143 deaths
Diphtheria - 104 deaths
Scarlet Fever - 83 deaths
To see a full breakdown of medical records from Newham click here
Ilford (1893)**
Scarlet Fever - 138 deaths
Diphtheria - 71 deaths
Typhoid - 10 deaths
To see a full breakdown of medical records from Redbridge click here
Teddington (1894)**
Bronchitis, Pneumonia and Pleurisy - 14 deaths
Phthisis - 14 deaths
Cancer - 10 deaths
To see a full breakdown of medical records from Richmond-upon-Thames click here
St George (1859)**
Measles - 148 deaths
Diarrhoea - 134 deaths
Hooping Cough - 45 deaths
To see a full breakdown of medical records from Southwark click here
Carshalton (1894)
Measles - 8 deaths
Enteric Fever - 1 death
To see a full breakdown of medical records from Sutton click here
Bethnal Green (1855)
Diarrhoea - 30 deaths
Measles - 27 deaths
Scarlet Fever - 22 deaths
To see a full breakdown of medical records from Tower Hamlets click here
Leyton (1896)
Diarrhoea - 87 deaths
Whooping Cough - 52 deaths
Diphtheria - 20 deaths
To see a full breakdown of medical records from Waltham Forest click here
Wandsworth (1856)
Phthisis - 54 deaths
Scrofula - 46 deaths
Measles - 14 deaths
To see a full breakdown of medical records from Wandsworth click here