British Airways short-haul services have the quietest planes at Heathrow, according to the first list of airline noise performance at the airport.
The airline topped a 50-strong table compiled by Heathrow, with Virgin Atlantic's Little Red domestic service the second least-noisy carrier, and Irish airline Aer Lingus third.
The scores were based on noise levels during the period July to September. Of the listed airlines, 80% met Heathrow's minimum requirements on noise, with 94% meeting at least five of the six categories.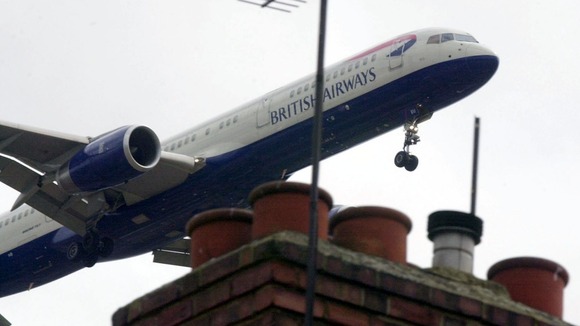 We are at the forefront of international efforts to tackle aircraft noise and are committed to continuing to reduce the number of people affected by noise.

The launch of the Fly Quiet programme signals our firm commitment to being transparent about aircraft noise and our progress in reducing its impact on local communities whilst still safeguarding the vital connectivity and economic growth that Heathrow provides.
– Matt Gorman, Heathrow sustainability director

Here is the list in full:
1. British Airways - short haul
2. Virgin Atlantic Little Red
3. Aer Lingus
4. American Airlines
5. Qantas Airways
6. Emirates
7. United Airlines
8. Delta Air Lines
9. KLM Royal Dutch Airlines
10. Deutsche Lufthansa
11. TAP Portugal
12. British Airways - long haul
13. Air Canada
14. Etihad Airways
15. Virgin Atlantic Airways
16. Air India - long haul
17. Singapore Airlines
18. Air Malta
19. Swiss International Airlines
20. Germanwings
21. Scandinavian Airlines System
22. Malaysia Airlines
23. Icelandair
24. Cathay Pacific Airways
25. Saudi Arabian Airlines
26. Gulf Air
27. Qatar Airways
28. Vueling Airlines
29. SN Brussels Airlines
30. SriLankan Airlines
31. Transaero Airlines
32. Austrian Airlines
33. Alitalia
34. Turkish Airlines - short haul
35. Air France
36. Iberia
37. Jet Airways
38. Cyprus Airways
39. US Airways
40. TAROM
41. Egyptair - long haul
42. Aegean Airlines
43. Aeroflot - short haul
44. Finnair
45. European Air Transport
46. South African Airways
47. Turkish Airlines - long haul
48. Thai Airways
49. El Al
50. LOT