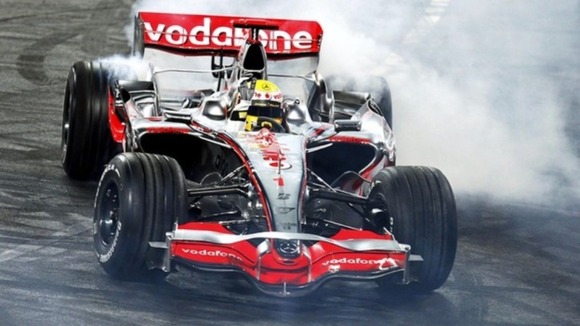 The dream of a motor racing Grand Prix on the streets of London was gathering speed today after the government appeared to back the idea.
Ministers launched a six-week public consultation, saying the plan could generate millions of pounds for local communities.
Watch this report from Simon Harris:
Formula One boss Bernie Ecclestone admitted a race would be expensive to stage but welcomed the proposal.
"It's going to bring a lot of business into not only London, into England.

Anywhere where we've had these races in the town it's brought a lot of people and it's been very very successful."
– Bernie Ecclestone, president and CEO of Formula One Management

Former F1 driver Mark Blundell told ITV News the home of motorsport deserved a race to rival Monaco and Singapore.
"I've done Monaco and that's one of the best experiences any Formula One driver can have.

I think actually through the streets of London, especially if we're going to go around Buckingham Palace and places like that, I think it would match it."
– Mark Blundell, former F1 driver

London mayor Boris Johnson gave his support to a race but called for detailed plans.
The Mayor thinks F1 is fantastic event which any city would feel privileged to host.

The question of air quality and noise impact would have to be looked at very carefully."
– City Hall spokesman

But enviromentalists gave the proposal a firm thumbs down.
"At a time when we need to be sending out a clear message that our streets should be safe for pedestrians and cyclists and more people-friendly, I think it sends out completely the wrong message."
– Darren Johnson, London Assembly Green Party spokesman

Spanish bank Santander released an F1 driver's point of view CGI film back in 2012 of an imagined 5.156-kilometre circuit around London.

The route takes in some of the Capital's most famous landmarks and was produced after a detailed feasibility study for such a race was carried out.

Hundreds of thousands of people took to the streets last time London was visited by the Formula One travelling circus back in July 2004.

During the event former F1 World Champion Nigel Mansell threw his support behind the idea of a London race, saying that if it were to become a reality "it would be one of the best street circuit races in the world":