Scaffolding firm fined after workers dangle over the edge
A scaffolding company has been fined after its workers were caught dangling over the edge - five floors up. Members of the public snapped workers of JOS Scaffolding clambering around on the unsafe and incomplete structure, with one sitting with his legs dangling over the edge.
The Clerkenwell-based company was fined at Westminster Magistrates court after it pleaded guilty to two breaches of work regulations. The images were taken in June 2013, when the group of scaffolders were still constructing a platform above a busy street in Covent Gardens street.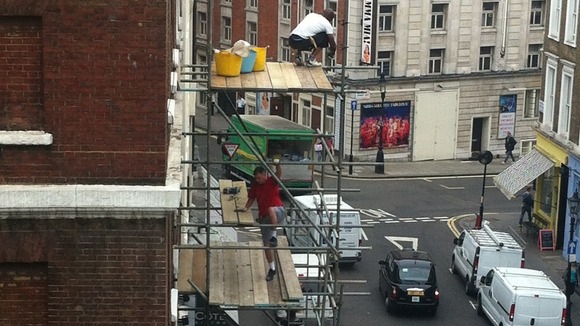 In one photo, a scaffolder on the top floor can be seen squatting down and reaching over the edge, as another clambers up the unsecure and precariously balanced boards below.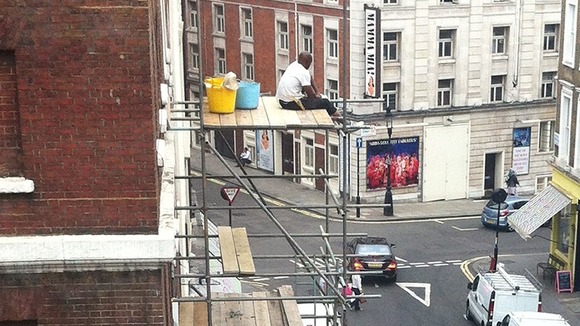 In a second photo, the same man is seen relaxing at the top of the 10 meter structure, simply dangling his legs over the edge - with no safety barriers in place.
Terrified onlookers were so scared that someone would fall that they photographed the workmen, before sending the pictures to the Health and Safety Executive.
An investigation found two of the three scaffolders were lacking training and accreditation, and that the work poorly planned and managed.
The standards here were sorely lacking and the photographic evidence speaks for itself in terms of the risks taken. None of the missing measures, such as guard rails and secured boards and ladders, were difficult to provide, and there was no excuse.

It isn't just the workers themselves who could end up getting seriously hurt or killed.

People should be able to walk along a pavement without having to worry about a piece of scaffold slipping from the hands of an overhead worker. The company was fined £5,000 and ordered to pay £734 in legal costs.
– Andrew Verrall-Withers, HSE Inspector