Acid used to help whiten teeth spills across the M11
The M11 motorway has fully reopened between junction 5 and junction 6 in Essex after a tanker overturned and spilled a large amount of acid across both carriageways.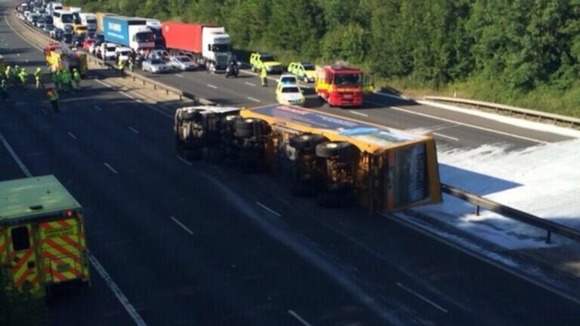 The spilled chemicals were identified as phosphoric acid and melamine formaldehyde resin. The fire service said he was "not aware" of any danger to the public.
The fire service will be dealing with the spillage in liaison with the Environment Agency, and the ambulance service are treating the driver of the tanker, who has received cuts and bruises but is not believed to be seriously injured.
Phosphoric acid is commonly used in fertilisers, food additives and home cleaning products, as well as in medicine and dentistry to help whiten teeth.
Update The M11 is being re-opened following the overturned lorry in Essex area