'Grow-your-own' organic skyscraper built from old bottles and recycled paper
by Simon Harris: ITV Correspondent
An 'organic skyscraper' made from disused water bottles and office rubbish could be built in Britain. The bizarre addition to the capital's skyline is the idea of a Paris-based architecture firm.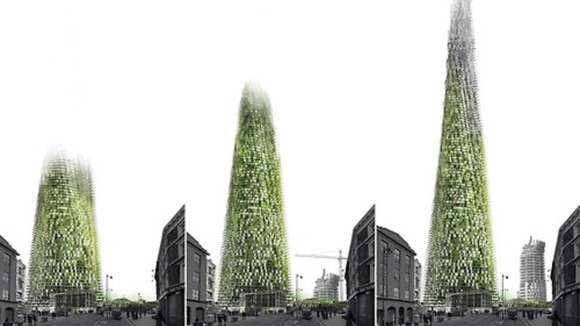 The tower would grow taller as it recycled its own rubbish to create extra floors
The skyscraper would have a skeleton of metal poles in the style of Chinese bamboo scaffolding
The exterior walls would be insulated panels made from discarded water bottles and waste paper
The tower could be built on a site close to Shoreditch High Street. The concept, from French firm Chartier-Corbasson, was recently commended in design competition. Thomas Chartier likened his creation to a "new Gherkin".
I think we can build it. I think London is a good town for that. They do not like this sort of thing in Paris, but there is something in the air in London.