Four tonnes of rubbish including shopping trolleys, dead pigeons, microwave doors & a TK Maxx sign dragged from Thames
A team of divers from south west London bravely plunged into the River Thames to wade through tonnes of debris and rubbish in a massive clean-up operation.
The event was the idea of former Kingston University Student Chris Elliott who wanted to find a way for scuba divers to contribute and give back to their community.
What they found was four tonnes of junk. Here's a list of some of the things they found.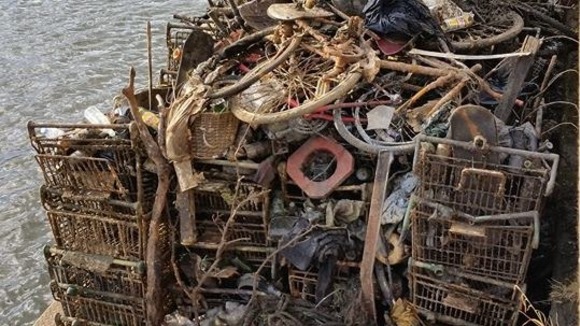 METAL
Drink cans: 37
Food cans: 52
Shopping trolleys: 105
Scaffolding pipes: 14
Adult bikes: 13
Road blocks: 1
Shovels: 3
Child push scooter: 2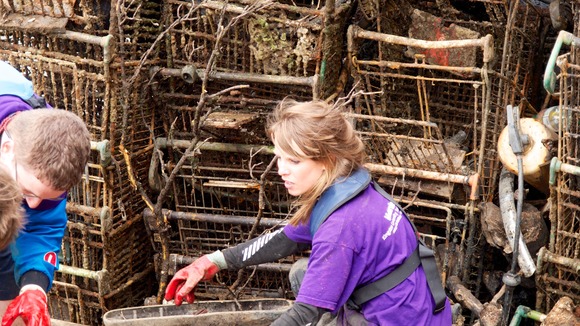 WOOD
Skateboards: 35
Logs: 4
Stumps: 2
Bits of wood: 76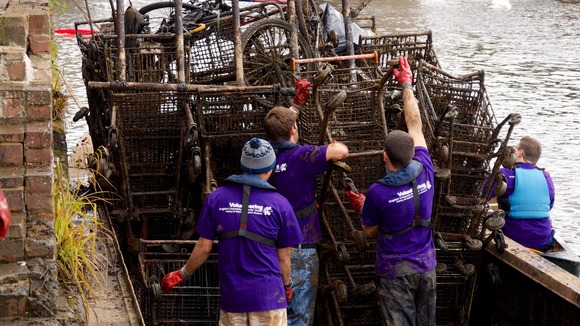 GLASS
Bottles: 388
Drink glasses: 244
Random glass: 59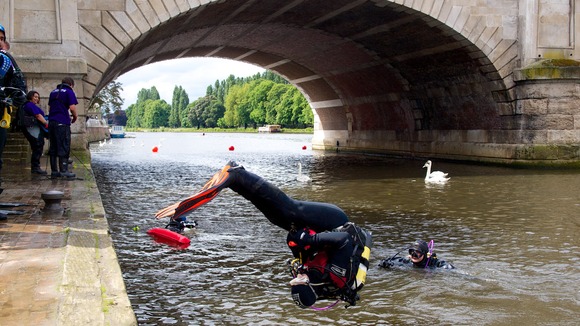 PLASTIC
Drinks bottles and containers: 8
Reel and fishing line: 2
Plastic traffic cone: 8
Flower pots: 15
TK Maxx sign: 1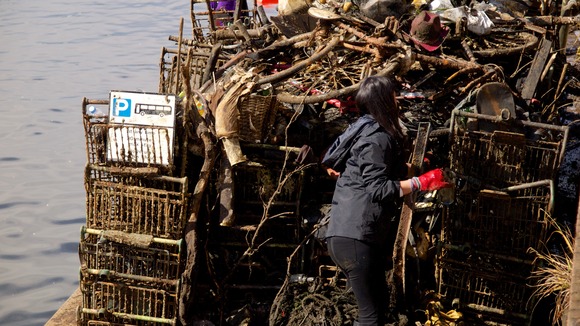 POTTERY
Pot: 1
Flagon: 1
Cup: 2
Tile: 1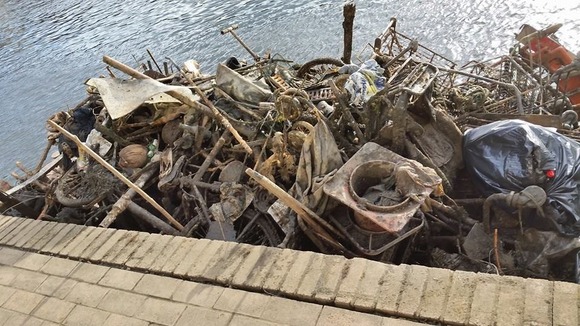 RANDOM THINGS
Dead pigeon: 2
Microwave door: 1
Balls: 2
Rock salt block: 2
CDs: 45
Jug: 3
Orange: 1
Bike horn: 1
Lampost cover: 1
Granite: 1
Coconuts: 3
Rope: 1
Mallets: 2
Prams: 3
And much, much more... in total they found 1,338 pieces of rubbish.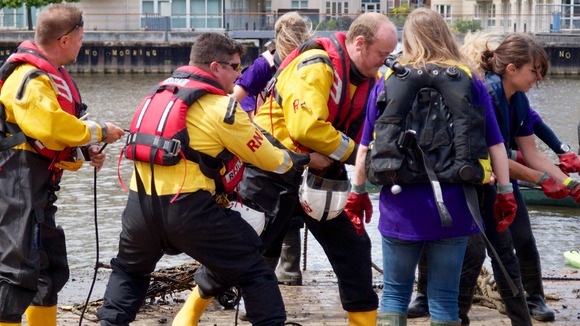 Spectators walking across the bridge and along the tow path looked in dis-belief at the quantity of debris that was extracted from such a small area of the Thames including 105 shopping trolleys!

Whilst divers hunted down the debris underwater, surface based volunteers pulled the various items out, loaded onto the barge and also waded to clear debris from the shallow area by Turks pier.

The day was an amazing success, with a great spirit of camaraderie. It was fantastic to see everyone working together to make such a difference to the environment.
– Aquanaut Scuba