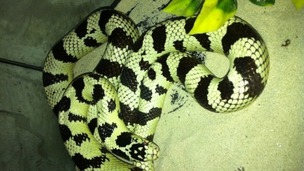 A Californian Kingsnake has been rescued from the hard shoulder near the Dartford Tunnel.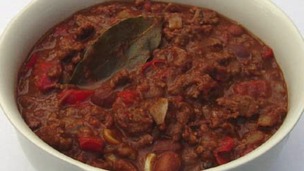 Staying in this Easter? Never fear, you needn't be short of chocolate - try these weird and wonderful recipes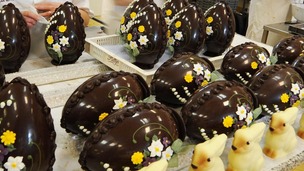 If it's chocolate, chocolate and more chocolate that you're looking forward to this weekend, fear not. We have tracked down London's best.
Live updates
Regents Park Superhero Fun Run
Over a thousand superheroes head to Regent's Park today for an annual charity run. The heroes will run, walk or jog 5km or 10km around the North London park to raise money for the Muscular Dystrophy Campaign.
Hand-reared baby meerkat
Keepers feed baby every 3 hours
Keepers at Chessington Zoo needed to intervene to save the life of sickly baby meerkat Lila after she was rejected by her mother. Now her carers feed 22 day old Lila, who weighs just 119g, every 3 hours day and night.
Beware - this video is CUTE.
Advertisement
Hand-reared baby meerkat
Meerkat cries for fluffy duck toy
Carer Gemma Anscomb explains how with the help of a fluffy toy duck, keepers at Chessington Zoo have taken over mother duties for Lila.
Londoner who raised flight funds on street departs
Joshua Preston has tweeted to say that he has left the UK on his way to visit his seriously ill sister in Australia.
He raised the money from friends, family and donations on London's streets.
Londoner raises £300 in 6 hours to fund flight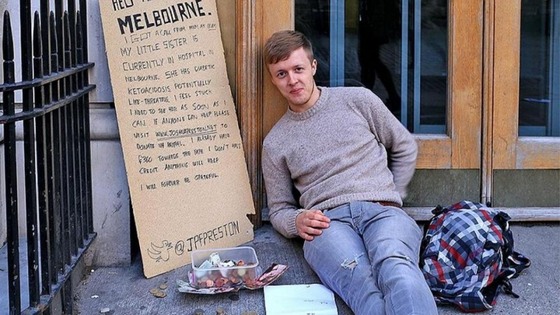 A computer engineer from Peckham has raised over £300 in just six hours to help pay for his flight to visit his sister in Australia, who is suffering from a life threatening condition.
Joshua Preston took to the streets of London after receiving around £700 from friends and family, but donations helped him reach the £984 he needed.
Joshua's 14-year-old sister, who lives in Melbourne, suffers from a life threatening diabetic condition.
Many of you might remember the 50-foot high rubber duck that travelled upriver in December - a stunt with the simple aim of trying to encourage Londoners to be daft. Everything hunky-dorey.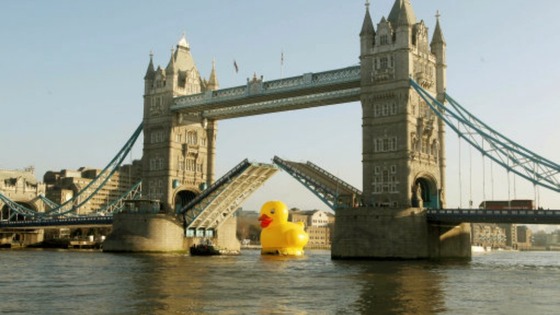 But what happens when big ducks become a let-down? Hong Kong knows.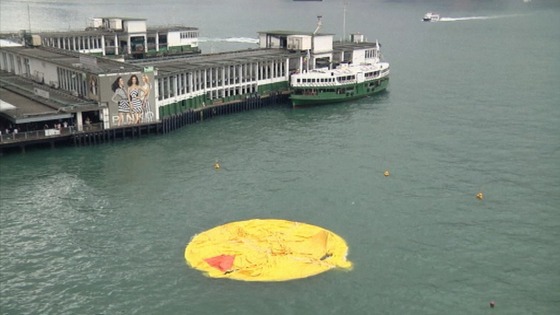 It welcomed a 54-foot high duck - created by a Dutch artist - and which has been on a world tour since 2007, spreading a message of peace and harmony.
But sightseers were left disappointed when it deflated.
Organisers denied it was sunk by wind and rain, saying it the duck was flattened simply to allow maintenance to be carried out.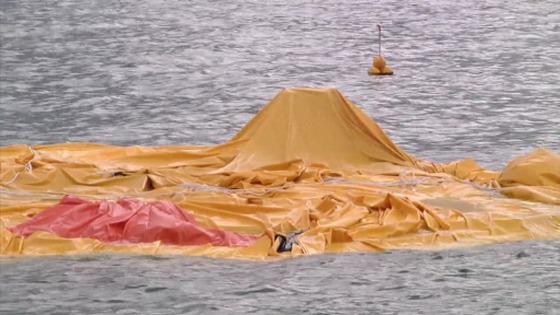 Advertisement
Cockerel on fourth plinth
Previous residents of the fourth plinth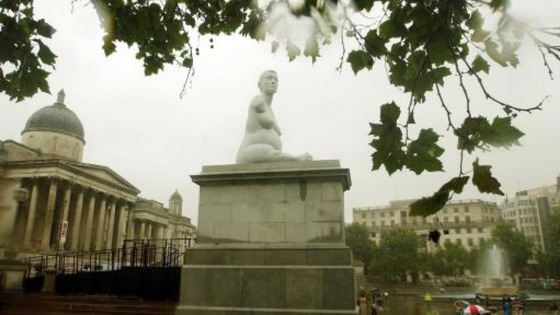 Marc Quinn's sculpture of the disabled artist Alison Lapper was displayed from September 2005 until October 2007.
Lapper, who was born with no arms and shortened legs due to a congenital disorder, posed naked for Quinn when she was eight months pregnant.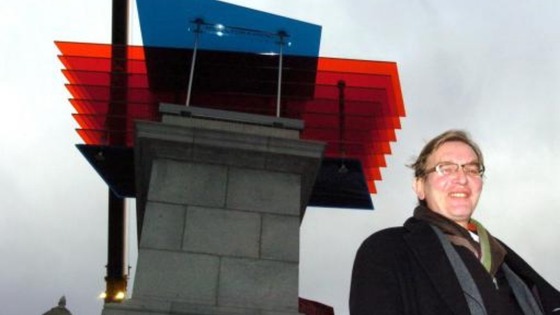 "Alison Lapper Pregnant" was replaced with a very different artwork - an architectural model of a 21-story building.
The coloured glass sculpture by German artist Thomas Schutte, "Model for a Hotel 2007" was unveiled in November 2007 and occupied the plinth until the end of May 2009.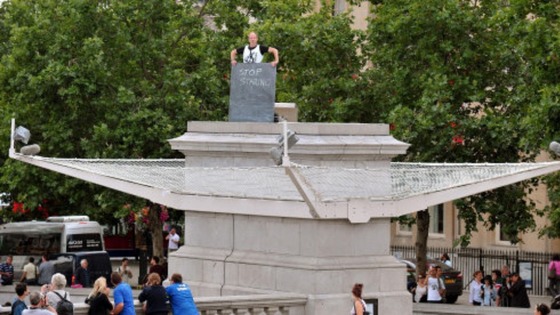 Next came Anthony Gormley's "One and Other" - a "living monument" which involved members of the public taking to the plinth.
The space was occupied by different people - chosen by ballot - every hour, 24 hours a day, for 100 days.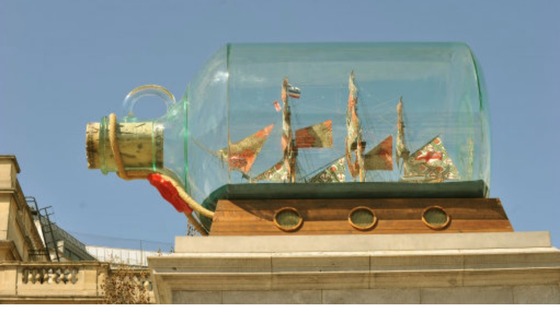 From 2010 to 2012, the plinth was home to Yinka Shonibare's "Nelson's ship in a bottle" which commemorated the Battle of Trafalgar.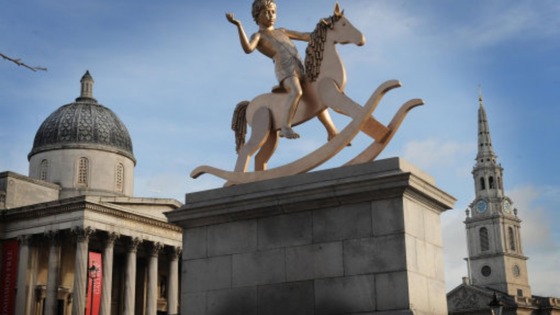 And currently in position is a giant bronze sculpture of a boy astride a rocking horse. It is called "Powerless Structures Fig 101".
Romford 'UK's luckiest' town
Where the winners live: top 10 lottery postcodes
The top 10 postcodes for big-money National Lottery wins are:
1. RM – Romford
2. SR – Sunderland
3. NE – Newcastle Upon Tyne
4. L – Liverpool
5. EN – Enfield
6. WA – Warrington
7. BR – Bromley
8. WV – Wolverhampton
9. DA – Dartford
10. DD - Dundee
These areas have more "top-tier" winners, per head of population, than anywhere else in the UK. High tier prizes refer to prizes of over £50,000 across all National Lottery games.
Romford 'UK's luckiest' town
Romford flies flag as 'UK's luckiest town'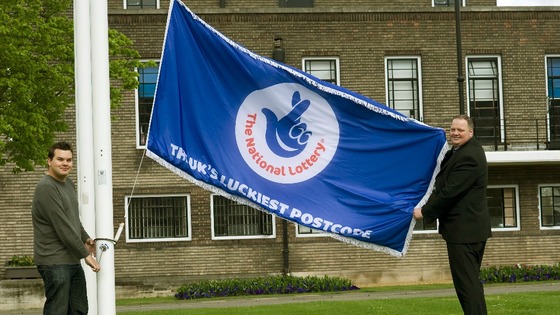 The National Lottery has presented Romford with a ceremonial flag, to honour its status as "the UK's luckiest town".
Since the National Lottery launched in 1994, 40 millionaires have been created in the RM postcode, and 317 prizes of at least £50,000 have been banked.
That means there are more big-money prize-winners, per head of population, in Romford than anywhere else in the country.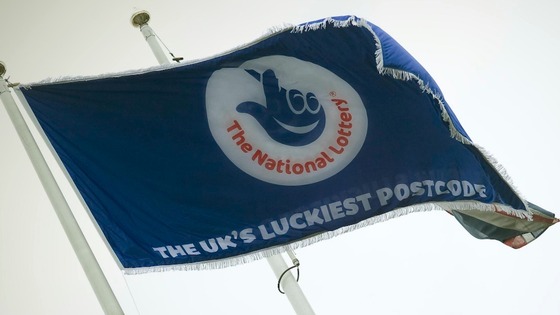 A spokesman said:
"Romford is the first postcode to ever fly The National Lottery ceremonial flag, let's hope it brings a further dose of luck for RM residents in the year to come."
Cockerel on fourth plinth
Blue cockerel: more of your comments
"What a total waste of time, money & effort...LEAVE OUR MONUMENTS ALONE!"
– Stuart Nolan
An "insult to Nelson".
– Chris Hall
Load more updates