Supermarket price wars are fiercely competitive, with price-savvy consumers shopping around like never before. So it's pretty surprising to see a poster in a shop window urging customers to increase their shopping bills.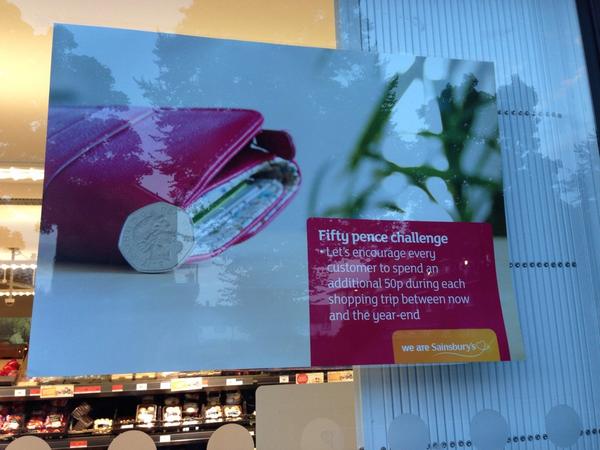 @mynameischrisd Yeah, I don't think so either. Which store was this? I'll give them a call. Ross.
Sainsbury's were pretty surprised too when they were alerted to the poster at a branch of the supermarket in Stratford, east London. It was only meant to be seen by staff and kept out of sight of shoppers. But the motivational poster found its way into a very public place. It read:
Let's encourage every customer to spend an additional 50p during each shopping trip between now and the year end.
– Sainsbury's poster
@mynameischrisd This is clearly a poster meant for staff areas. I'd really like to make sure it gets to where it should be. Ross.
In a statement, Sainsbury's said:
We often use posters to make store targets fun and achievable for our colleagues. They are intended for colleague areas in the store, but this one was mistakenly put on public display.
– Sainsbury's
Not surprisingly, some customers were less than impressed.
Speaking to ITV News Chris Dodd, who found the poster, added:
I was stunned to see the poster in the window of my local store. I can understand why there has been such a backlash against it, the wording is awful.

It's obviously no surprise that supermarkets are trying to encourage more spending, I think the negative reaction to the poster is down to how bluntly Sainsbury's are communicating this message to their staff.

I think the real mistake Sainsbury's have made it to present this to staff as a challenge. As a customer I don't want to feel like I'm being forced or tricked into spending extra by staff who have been challenged to make me do so. Had the poster encouraged better customer service, or more effective promotions I doubt there would have been this kind of reaction.
– Chris Dodd
Advertisement
A student, who covered her Mercedes in a million Swarovski crystals, is putting the £35K car up for auction to raise money for charity.
Read the full story ›
The world's most expensive cocktail has gone on sale in London - costing the same as a new family car...
Read the full story ›
From today, the National Trust will allow members of the public to wander around the former London flat of architect Erno Goldfinger.
Flat 130 at the Balfon Tower, in Poplar, will be open for just two weeks.
Goldfinger - who was immortalised as a Bond villain by Ian Fleming - lived there for two months to try to show the appeal of high-rise living.
The cordon was set up following a fight in Romford. But the DO NOT CROSS signs did not deter the street cleaner from overstepping the mark.
Read the full story ›
Advertisement
Homes around London are being invaded by spiders with rising temperatures helping the creepy crawlies grow bigger than usual.
Read the full story ›
Uri Geller and Bill Oddie will join hundreds of runners as they dress up as gorillas and jog across the city - all in the name of charity.
The London Great Gorilla Run returns today for the 11th year and organisers are hoping to set a new record with more than 1,000 people taking part.
The event is run by The Gorilla Organization and raises money to help protect gorillas and preserve their habitat.
"We have been overwhelmed by the amount of interest we've received in the past but the public's help is needed more today than ever before. It is for a serious cause but, let's be honest, running through London dressed as a gorilla is a lot of fun."
– Ian Redmond, The Gorilla Organization chairman.
As well as event patron Bill Oddie and Uri Geller, Boris Johnson's father, Stanley, is expected to take part.
The runners will pass iconic sites includes St Paul's Cathedral and the Tower of London.
An action shot of a chameleon as it snares its prey with its extended tongue has scooped top prize in an animal photography competition.
Read the full story ›
Load more updates