Tesco has donated £5,000 to charity after staff at one of its stores told a woman she had to leave because of her guide dog.
Read the full story ›
A woman who was registered blind had to leave a north London supermarket after staff said her guide dog was not allowed on the premises.
Read the full story ›
Advertisement
A Metropolitan police sergeant picked up a national award for bravery last night for single-handedly confronting a sword-wielding attacker
In the early hours of Christmas Eve 2012 Sergeant Steve Brown was on duty in Islington when he found himself face-to-face with a violent Samurai sword-wielding man who only moments earlier had stabbed a complete stranger.
After a terrifying struggle, he managed to overcome him. When the attacker's bag was later searched, an arsenal of weapons including a crossbow and hunting knife were found.
Sgt Brown picked up the national honour at the Police Federation's Annual Bravery Awards, which followed a reception at Downing St yesterday.
Home Secretary Theresa May said: "The actions of Sergeant Stephen Brown are a powerful reminder of the commitment and courage thatpolice officers bring to their role"
A new report into London apprenticeships has found that the capital is lagging behind other regions in England- despite having a major problem with youth unemployment.
The London Assembly Economy Committee- which compiled the report- is calling on the Mayor to do more to improve the situation- and meet his apprenticeship target of a quarter of a million by 2016.
The number of funded apprenticeships in 2012/13 stood at 77,110, the lowest regional total except for the North East.
Sectors such as construction, ICT, leisure, travel and tourism where London has particular strengths, are among the worst performing sectors in terms of the proportion of apprenticeships created.
The largest property fair in the world-usually held in Cannes- will take place in London today. It's the first time MIPIM has come to the UK and having visited the French conference, London Mayor Boris Johnson is at the forefront of the venture here.
It will give investors, local authorities and developers a chance to meet and close deals in the property market.
But it does have its critics. Tower Hamlets Council said that it will not be represented at MIPIM UK and Councillor Rabina Khan condemned the model of profit-driven housing policy represented by MIPIM, arguing that public land should be used to build the homes we need, not for 'speculative greed.'
A London food business has been fined £5,000 after a pork sausage was found to contain almost half horse meat.
Tests on the vacuum-packed Lukanka Chumerna product, which was on sale labelled as containing pork sausage meat, found it was actually 46% horse.
The products, manufactured in Bulgaria, were imported by Expo Foods Limited, based in Enfield, and were being sold at a shop in Dartford in Kent.
At Dartford Magistrates' Court yesterday, the company pleaded guilty to a charge under the Food Safety Act, and the product has now been withdrawn.
We are obviously concerned that this product was found on sale in Kent.

We are aware of the sensitivities amongst the public concerning eating horse meat and therefore feel our actions were necessary to ensure that they can have confidence that what they eat is accurately described."
– Richard Strawson, Kent County Council
Advertisement
Supermarket price wars are fiercely competitive, with price-savvy consumers shopping around like never before. So it's pretty surprising to see a poster in a shop window urging customers to increase their shopping bills.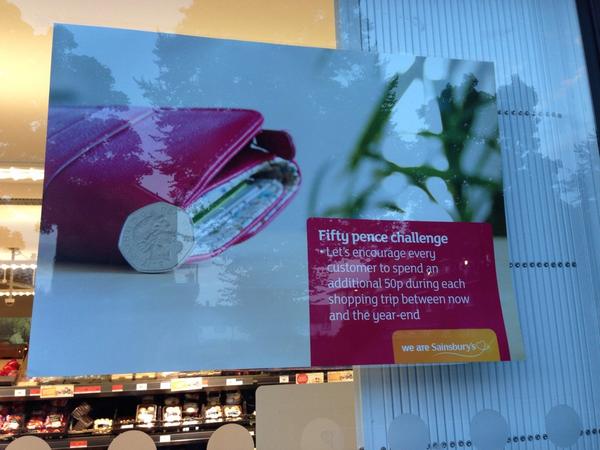 @mynameischrisd Yeah, I don't think so either. Which store was this? I'll give them a call. Ross.
Sainsbury's were pretty surprised too when they were alerted to the poster at a branch of the supermarket in Stratford, east London. It was only meant to be seen by staff and kept out of sight of shoppers. But the motivational poster found its way into a very public place. It read:
Let's encourage every customer to spend an additional 50p during each shopping trip between now and the year end.
– Sainsbury's poster
@mynameischrisd This is clearly a poster meant for staff areas. I'd really like to make sure it gets to where it should be. Ross.
In a statement, Sainsbury's said:
We often use posters to make store targets fun and achievable for our colleagues. They are intended for colleague areas in the store, but this one was mistakenly put on public display.
– Sainsbury's
Not surprisingly, some customers were less than impressed.
Speaking to ITV News Chris Dodd, who found the poster, added:
I was stunned to see the poster in the window of my local store. I can understand why there has been such a backlash against it, the wording is awful.

It's obviously no surprise that supermarkets are trying to encourage more spending, I think the negative reaction to the poster is down to how bluntly Sainsbury's are communicating this message to their staff.

I think the real mistake Sainsbury's have made it to present this to staff as a challenge. As a customer I don't want to feel like I'm being forced or tricked into spending extra by staff who have been challenged to make me do so. Had the poster encouraged better customer service, or more effective promotions I doubt there would have been this kind of reaction.
– Chris Dodd
Appliance manufacturer Beko says its staff acted appropriately at all times after an inquest ruled one of its faulty fridge-freezers had caused a fire that killed a father of two.
In a statement following the ruling, Beko said it had extended condolences to the family of Santosh Benjamin Muthiah and insisted it has sent out thousands of letters, made house calls and placed adverts to try to trace products containing the same faults.
This incident involved a model of frost-free fridge-freezer that has not been in production since 2006. None of our current range of appliances are affected by the issues in this case.
– RAGIP BALCIOGLU, BEKO UK MANAGING DIRECTOR
The company said it is "still working to located any affected older appliances that may be in use".
Anyone with concerns about a Beko fridge freezer can call the company on 0800 917 2018 or see the advice on this Beko website.
A faulty Beko fridge-freezer caused a fire that killed a man in his home - and thousands of the brand's appliances still pose a real risk.
Read the full story ›
Load more updates