The Duchess of Cambridge watched filming of a new episode of Downton Abbey as she visited Ealing Studios today.
To mark her visit, the team behind the show left a small tribute on her headphones, by way of a label marked 'HRH'.
The Duchess of Cambridge has been handed a wooden train as a gift for Prince George during her visit to the set of Downton Abbey - given to her by his namesake in the show, Master George Crawley.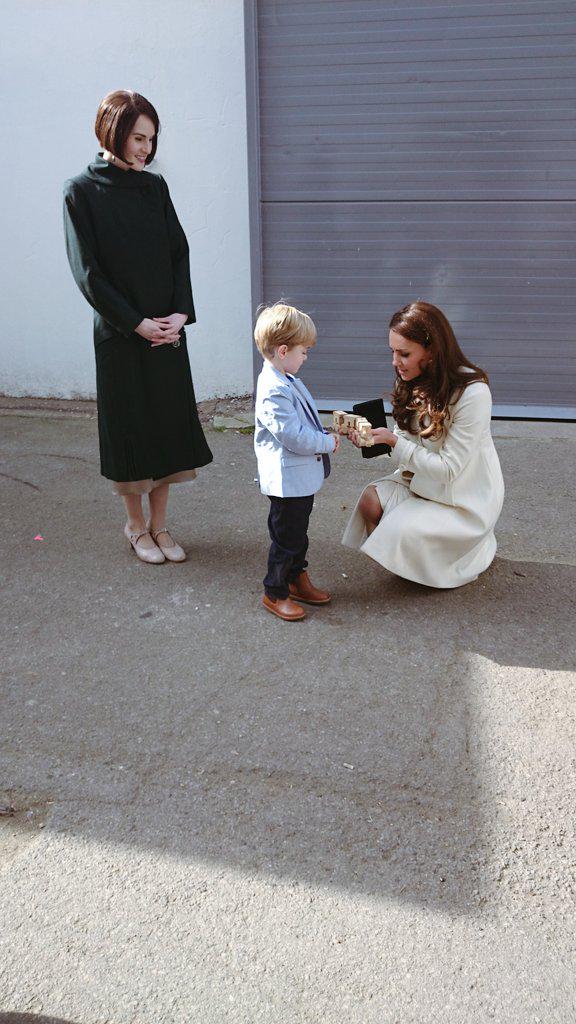 The cast also posed for a portrait with Kate as her visit at Ealing Studios neared its end.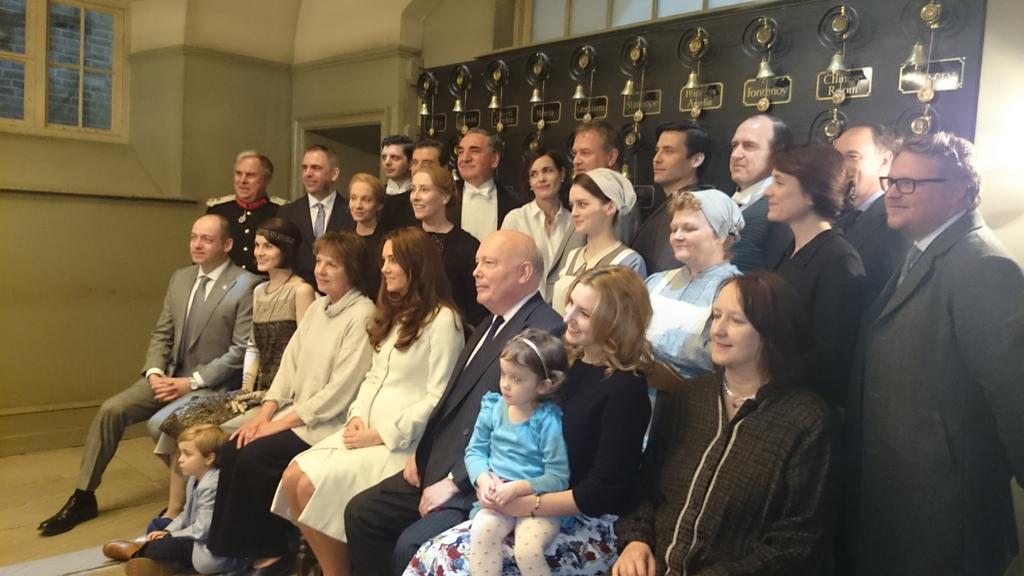 Advertisement
A child actor who plays Master George Crawley in the hit series Downton Abbey turned shy as he handed flowers to the Duchess of Cambridge on her visit to Ealing Studios this morning.
The Duchess, who along with husband William is believed to be a fan of the show, is meeting the show's actors and behind-the-scenes staff today during her visit - which is used for part of the show's filming.
The Duchess of Cambridge has begun her visit to the studios of ITV series Downton Abbey.
Kate was handed flowers shortly before she met Lord Fellowes, the creator of the hit show at Ealing Studios in west London.
The Duchess, whose baby is due next month, wore an outfit from British maternity label Jojo Maman Bebe.
She then met with hair and make-up stylists who were working to prepare some of the show's stars for filming.
The Victoria and Albert Museum will host a major exhibition of fashion designer Lee Alexander McQueen's work.
He is hailed as one of the most innovative designers of his generation and is celebrated as being an extraordinary creative talent.
Advertisement
Former EastEnders actress Martine McCutcheon has introduced her first child to the world, saying, "I have never been so in love."
Read the full story ›
David Cameron has toady announced 27 new Free Schools in the capital - pledging more to come if the Conservatives win the General Election.
Read the full story ›
This year's contestants for the Eurovision Song Contest have been revealed. Electro Velvet will take to the stage in Vienna on 23rd May.
Read the full story ›
Madame Tussauds has released the first images of the early work in progress of Luke Skywalker, Han Solo and Princess Leia's wax figures
Read the full story ›
Load more updates