Chelsea F.C. has paid tribute to Richard Attenborough, in a statement on the club's website.
Chelsea Football Club is deeply saddened to learn of the passing of our Life President Lord Attenborough, CBE at the age of 90.

He led a long and successful life and always found time for the things in life he loved most, one of which was Chelsea FC.

Renowned throughout the world for his work in cinema which honoured him with awards for acting, directing and producing, football - and Chelsea in particular - was never far from his thoughts.

His personality was woven into the tapestry of the club over seven decades. He was a consistent force for good at the club, even in dark times.

He was a club director during the glamorous, trophy-winning seasons of the early 1970s and a decade later helped keep the club at Stamford Bridge when our stadium came under serious threat from property development.

In the late 1940s he had been selected for the role of young gangster Pinkie in the film Brighton Rock. Asked to improve his physical condition, he was given the choice of training with either the Chelsea players or with Fulham for a fortnight. To our everlasting good fortune he chose the Pensioners and soon became friends with Tommy Lawton, the most revered centre-forward in English football at the time, and others, and was given tickets to matches by them.
– Chelsea F.C. statement
Drugs worth around £300,000 that police believe were destined to be sold at the Notting Hill Carnival have been seized during a raid at an address in Lewisham.
At about 10.30am yesterday, officers involved in the Notting Hill Carnival policing operation raided a flat in Broadfield Road.
In the basement, officers found a suitcase containing what is suspected to be 3-4kg of crack cocaine.
Four people - a man and a woman aged in their mid 30s, second man aged 19 and a third man aged 51 - were arrested at the address on suspicion of being concerned in the supply of drugs.
All four are currently in custody.
Advertisement
Steven Spielberg says Richard Attenborough was "passionate about everything in life" after his fellow filmmaker died aged 90.
The Jurassic Park director, who chose Lord Attenborough to be "the perfect ringmaster to bring the dinosaurs back to life" in the films, said he is just one person in a long line of "Dickie's" fans.
Dickie Attenborough was passionate about everything in his life - family, friends, country and career.

He made a gift to the world with his emotional epic Gandhi and he was the perfect ringmaster to bring the dinosaurs back to life as John Hammond in Jurassic Park.

He was a dear friend and I am standing in an endless line of those who completely adored him.
– Steven Spielberg
The Academy of Motion Picture Arts & Sciences, which awarded Lord Richard Attenborough as Best Director for his epic film Gandhi, has paid tribute to the late star on Twitter.
"I believe we need heroes...we need certain people who we can measure our own shortcomings by." - Richard Attenborough
The British Film Institute has said they are "saddened" by news of legendary British actor Lord Richard Attenborough, who was reported to have died aged 90.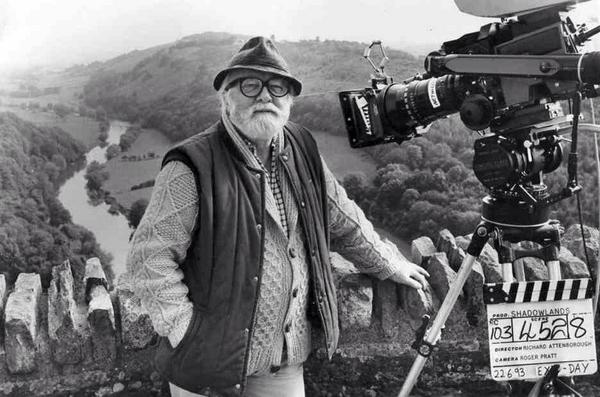 Sir Ben Kingsley, star of Richard Attenborough's Oscar-winning epic Gandhi, has revealed his sadness at the death of the filmmaker.
"He placed in me an absolute trust and in turn I placed an absolute trust in him and grew to love him," said Sir Ben.
"I along with millions of others whom he touched through his life and work will miss him dearly."
Advertisement
Despite a grim weather forecast, more than a million people are expected to have attended Notting Hill Carnival by the end of today.
Police have been planning for the carnival for months, and arrested dozens of people during yesterday's celebrations.
Transport for London is reminding Londoners to check before they travel, as there are major changes to roads and public transport in the area.
Met Police officers have made 34 arrests on the first day of the Notting Hill Carnival.
10 x drugs
1 x assault on police
1 x criminal damage
3 x public order offences
1 x possession offensive weapon
5 x theft
4 x common assault
3 x theft person
6 x various other offences
Load more updates