The Duchess of Cambridge has visited a charity project in north-west London. At Northolt High School Kate opened a newly refurbished room that has been transformed into a tranquil art studio and rest space with funds donated by global brokers Icap.
During her visit the Duchess joined a group of nine children who sat at large table in the art room creating still life paintings of pieces of fruit.
Kate, who is the Art Room's royal patron, spent more than half an hour chatting to the six girls and three boys and could be heard asking the youngster if they enjoyed their time in the lesson.
The Duchess of Cambridge's involvement in charities such as the Art Room has "raised its profile undoubtedly", the chairman of the board of trustees said today, after she opened a new art therapy room at a school in West London.
Jo Lloyd Jones, chairman of the Art Room's board of trustees, spoke about the work his organisation does:
We take children at risk of exclusion, who are not coping for a wide range of reasons, and, using art techniques, are able to establish them back into main stream schools, giving them confidence and the ability to cope.

The important thing is she's genuinely interested in what we've done, there's a commitment on her part and we feel very privileged.
Advertisement
The Duchess of Cambridge has arrived at a school in the London Borough of Ealing to open a new art therapy room, as part of an initiative by one of her charities.
Her Royal Highness is a patron of the ICAP Art Room charity and will meet staff and pupils at the Northolt High School.
The Duchess of Cambridge will officially open a new Art Room at a school in Ealing.
Her Royal Highness is a patron of the ICAP Art Room charity and will meet staff and pupils at the Northolt High School later.
A man who walked into a police station and stated that he wanted to kill Prince Harry has been jailed for three years. Ashraf Islam, who's 31 and of no fixed abode, was arrested after making the threat at Hounslow police station in May 2013.
Mr Islam pleaded guilty when he appeared at Uxbridge Magistrates' Court last May, but was only sentenced today.
No weapon was found in a search of Islam's hotel room in Hounslow, where he was staying after flying into the country from Thailand via Hong Kong.
He may be one of our most senior royals, but today one Tottenham toddler just couldn't resist grabbing Prince Charles's nose as he toured the north London borough.
More than two years after it was torn apart by riots, Prince Charles went back to Tottenham to find out how the people living and working there are getting on.
Our Senior Correspondent Ronke Phillips reports.
Advertisement
The Labour MP for Tottenham, David Lammy, says that Prince Charles has shown real commitment to helping the people of Tottenham.
"The Prince contacted my office the day after the riots and he asked what he could do and whether he could come.

"This has been a real commitment, a sustained commitment, I might say he's been here more than any other national leader and that includes the Prime Minister."
– David Lammy MP
The visit was Prince Charles's fourth since the 2011 riots and a number of his charities and organisations are helping with the borough's regeneration and providing support to young people.
Projects include an enterprise programme, run by the Prince's Trust, which provides training and mentoring for young people wanting to start their own business.
The Prince's Foundation for Building Community has also organised community consultation workshops, on behalf of Haringey Council, to develop ideas to enhance the underused Tottenham Green.
Prince Charles was visiting Tottenham to see how the area had fared since the 2011 riots. He and the Duchess of Cornwall had visited in the immediate aftermath of the riots.
The Prince of Wales viewed the site of the Carpetright building, which had burned down destroying several homes, but which has now been rebuilt.
The dramatic pictures of the Tottenham landmark glowing red hot became a iconic image of the riots.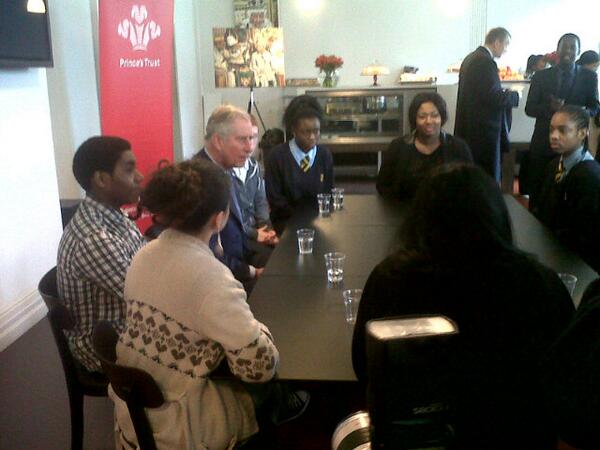 Load more updates