The Royal Historic Palaces has released amazing new footage of previously unseen views of the poppies at the Tower of London, using an aerial drone.
Advertisement
The official @BritishMonarchy account she used saw its followers grow by tens of thousands, but was immediately attacked by trolls sending abusive messages.
A Buckingham Palace spokesman said: "We were fully cognisant of the nature of Twitter, where anyone anywhere can express their opinion, but we were delighted that so many people - in their tens of thousands - responded positively.
"We saw some tweets with profanity but that is just the nature of the format."
Scotland Yard said it had not received any complaints and was not investigating the matter.
Actress Dame Maggie Smith will receive the Companion of Honour from the Queen today at Windsor Castle. It's one of Britain's highest awards- and is in recognition of the six decades the star- well known for her roles in Downton Abbey and Sister Act- has spent on screen and stage.
The Order of the Companions of Honour was instituted in 1917 by George V at the same time as the Order of the British Empire was founded, and it is sometimes regarded as a junior class of the Order of Merit.
The Order consists of the Sovereign and 65 ordinary members.
Foreigners are admitted only as honorary members and certain additional members are appointed by statute in commemoration of special occasions.
The Order is conferred on men and women for recognised services of national importance.
Prime Ministers of Commonwealth countries may also make nominations, and the Order includes a number of Commonwealth figures.
Recipients include painter Lucian Freud, Professor Stephen Hawking, naturalist Sir David Attenborough, painter David Hockney, historian Dr Eric Hobsbawm, politicians Sir John Major and Lord Patten of Barnes, General John de Chastelain, dramatist Harold Pinter, conductor Sir Charles Mackerras, the Reverend Chad Varah, and scientist Professor Anthony Pawson.
The order confers no knighthood or other status, but recipients of this one-class order are entitled to use the post-nominal letters 'CH'.
The Order's badge is a gold oval-shaped medallion with a representation of an oak tree.
Hanging from a branch is a shield of the Royal Arms, and on the right of it is a representation of a knight in armour mounted on a horse.
The badge, surmounted by an imperial crown, has a blue-enamelled border bearing the motto of the Order, 'In action faithful and in honour clear'.
Also receiving an award will be the head of the Military Wives Choir- who enlisted the help of choirmaster Gareth Malone to involve thousands of wives and servicewomen and raise millions of pounds for charity.
The Queen, accompanied by The Duke of Edinburgh, is expected to visit the Tower of London today.
She is due to lay a wreath at the 'Blood Swept Lands and Seas of Red' poppies installation- and attend a chapel service.
Created by ceramic artist Paul Cummins, with setting by stage designer Tom Piper, 888,246 ceramic poppies have progressively filled the Tower's moat. Each poppy represents a British military fatality during the First World War.
The last poppy will be placed on Armistice Day, 11 November 2014. The poppies that make up the installation are currently being sold to raise millions of pounds which will be shared equally amongst six service charities in the UK.
The sportswoman and British Polio Fellowship ambassador, originally from Kenya, has been given the honour for her services to disability, sport and charity work
On her internet blog, she described the award as 'a huge honour and blessing'- saying it's a recognition not just for her but for everyone who's given her opportunities to give back to society.
Advertisement
The position, posted on the British Monarchy website, pays £16,000 a year for 20 hours a week.
Read the full story ›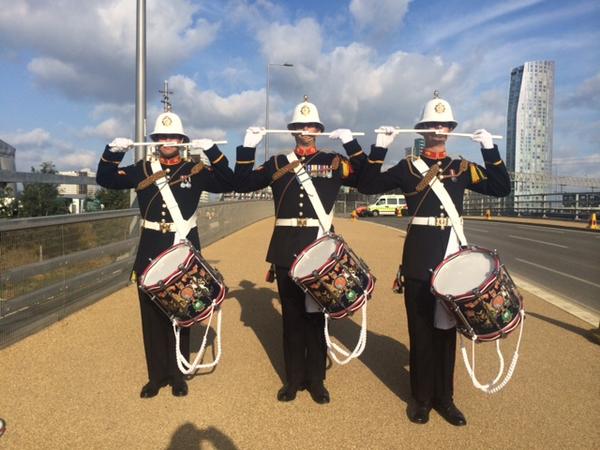 Following the success of this year's Invictus Games, which end this evening, Prince Harry has said it could possibly move out of London for a follow-up event.
The stands have been full, with crowds turning out to support competitors, many of whom have missing limbs or other serious injuries.
Harry launched the contest earlier this year, after being inspired by a similar initiative in the US, and he hopes it will support competitors' rehabilitation and raise awareness of those injured serving their countries.
The Prince said yesterday he was "over the moon" by how the Games had gone and suggested it could be staged next year outside of London.
He said: "We've now got America showing interest in 2016 and Canada showing interest in 2017 so the question is what do we do next year?
"I personally, along with a couple of other people on the board, would love to keep it in the UK, maybe head north whether it be Glasgow, whether it be Sheffield, whether it be Manchester."
Good luck to Cpt David Wiseman & all in the @invictuslondon Team GB swimming squad today. Looking forward to tonight's closing ceremony
Load more updates