Met Chief vows to be racists' enemy
Britain's top officer - Bernard Hogan-Howe - has vowed to become an "implacable enemy" of racists at Scotland Yard
The Commissioner, Bernard Hogan-Howe, vowed today the force will become an "implacable enemy" of racists as investigations continue into officers accused of racial abuse.
The Met's policy of 'Stop-and-search' has often left officers open to criti-cism so instead they may now ask suspects for fingerprints before they search them.
But is that any better? Here's Glen Goodman's report.
The Metropolian Police Commissioner has said Scotland Yard must deal better with black suspects.
Speaking on LBC Radio, Bernard Hogan Howe pledged to deal with all allegations of abuse. He also said he wanted at least one in three police officers in London to be from an ethnic minority.
Ten cases of alleged racism are currently being investigated by the police watchdog.
Advertisement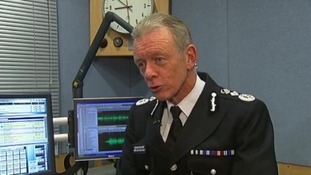 The Metropolitan Police Commissioner, Bernard Hogan-Howe, today vowed to stamp racism out of the force.
Read the full story
Bernard Hogan-Howe was confronted on LBC 97.3 radio by the brother of black bus driver Kester David, whose suspicious death in 2010 is to be reinvestigated by the force.
In a recording played to Mr Hogan-Howe, Roger David said:
I think your force needs to buck up its ideas and realise that black and ethnic people are here in Britain, we're part of society and we request and demand the same kind of treatments as white people in Britain...

The police have to start from the top and go right down to the bottom and make sure that they get rid of, eliminate, any racial discrimination within the force.
– Roger David, Kester David's brother

Mr Hogan-Howe told radio host Nick Ferrari:
I agree with him. The first point I'd make is that this is the world's greatest diverse city and we're going to use that as a reason to be the best in the world at policing.

We're not going to use it as an excuse for failing and sometimes I do hear us and sometimes others saying that the diversity of London means that we have a bigger challenge.
– Bernard Hogan-Howe
The Metropolitan Police Commissioner, Bernard Hogan-Howe, today vowed to stamp racism out of the force.
He told London Tonight that he would be an 'implacable enemy' to racists - and that he would root them out of the force. But he defended the 'vast majority' of his staff as professional and unprejudiced.
The Commissioner admitted that training in one of the most controversial police tactics - stop and search - could be improved, and that the force would focus on that in the coming year.
Back to top