Heathrow Queue Targets Failure
New figures show that the Border Force failed to meet its targets for getting non-EU passport holders through immigration at Heathrow last month.
A Border Force spokesman said:
"Border Force and BAA data shows that queuing time targets for UK and EEA citizens were not breached during April.

"But we know at times queues have been too long.

"That is why we have announced an extra 80 staff for peak times at Heathrow. And it's why we've also engaged an extra 480 people to cover the Olympic period.

"In the longer term, our management and rostering changes will address the issue of queues."
Immigration Minister Damian Green has previously said that last week's problems at Heathrow were mainly due to poor weather - and that it is essential that the UK's borders are secure.
He has also said that all immigration desks at key ports and airports will be fully staffed during peak periods throughout the Olympics.
Christopher Rodrigues, Chairman from VisitBritain:
Security is of course paramount, but it would be a tragedy if all the work being put in to showcase Britain around the Jubilee and the Olympics was undermined by a negative first impression as the world's press arrives to cover these events.
Advertisement
Shadow Immigration Minister Chris Bryant said:
Damian Green's complacency in Parliament on Monday has now shown to be completely misplaced.

People are right to feel angry that thanks to the Government's ineptitude and cuts of nearly 900 members of staff, queues at Heathrow have been far too long.

We need more than just words from the Prime Minister. The Government must get a grip or they will undermine our border security, our business reputation and the British tourism industry.
A PCS Union spokesman said:
The issues of the last few days has brought to the public's attention what we have said for a long time, that ministers can't cut staff and expect to run the same service - not just on passport controls at Heathrow, but right across UKBA.

Clearly, the cuts already made have had a major impact and further cuts planned every year until 2015 will make the situation even worse.
New figures show that the Border Force failed to meet its targets for getting non-EU passport holders through immigration at Heathrow last month.
The agency aims to get 95 percent of passengers through within 45 minutes, but at Terminal 5 they only managed 76 percent.
The figures were released on BAA's website after the Government admitted the Border Force needs to change the way it operates. Large queues built up at passport control at the airport last week, with some passengers waiting for up to three hours.
However, the Border Force did meet its targets for EU passport holders, meaning that 95 percent of passengers were processed in less than 25 minutes.
Terminal-by-terminal figures at Heathrow in April 2012 - percentage of non-EU passport holders processed within 45 minutes:
Terminal 1 - 94.5%
Terminal 3 - 87.0%
Terminal 4 - 84.4%
Terminal 5 - 75.7%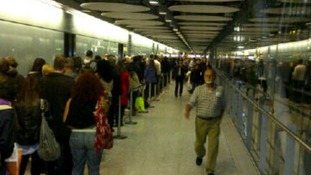 Passengers at Heathrow have told of their frustration, after facing long queues at border control.
Read the full story
Advertisement
BAA, which owns Heathrow Airport, made the following statement:
"Immigration waiting times during peak periods at Heathrow recently have been unacceptable and we have called on the Home Office to address the problem as a matter of urgency.

"There isn't a trade-off between strong border security and a good passenger experience - the Home Office should be delivering both."
– BAA Spokeswoman

Long queues had formed at passport control on Thursday and Friday.
The Head of the Border Force, Brian Moore, said that our border controls were generally very efficient.
The Border Force expects most British or European nationals to travel through passport control in 25 minutes or less, and most foreign nationals within 45 minutes.
But occasionally, disruption is caused by issues like flight bunching, where several flights arrive at the same time.
He added: "Occasionally there is some disruption to travelling passengers, which we regret. But we all want a safe United Kingdom and a strong border."
Tom Bates posted this video of the queues at Heathrow Airport on Thursday on Twitter, using the handle @tgdbates.
He wrote: "Outrageous passport queues at Heathrow. Seriously get a grip. How many people in this queue, before the actual queue?!"
Pictures from Tom Bates (Twitter user @tgdbates).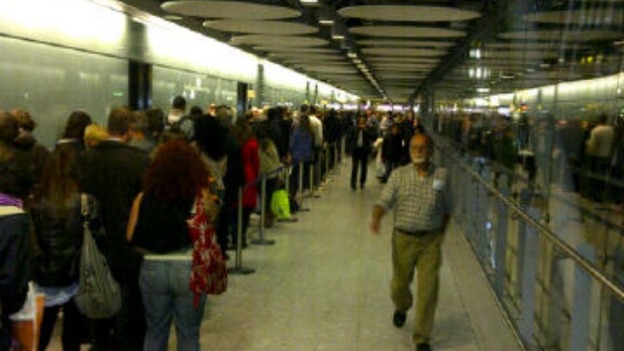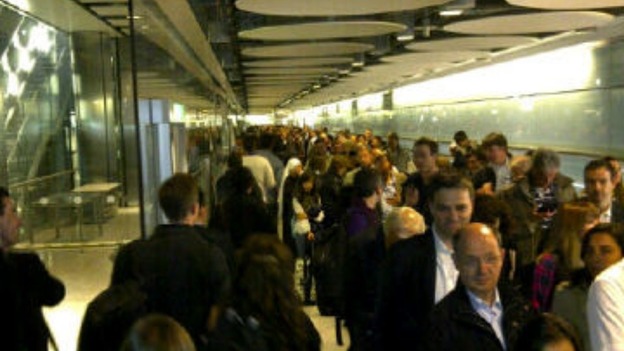 Tennis player Jamie Murray - the brother of British number one Andy Murray - was caught up in the queues at passport control on Thursday night.
He tweeted these pictures, estimating that there must be a couple of thousand people waiting in line.
He added the hashtag #thirdrunwayanyone?
Load more updates
Back to top