Warship's Thames Exercise
The Royal Navy's largest warship has sailed up the Thames to take part in military exercises ahead of the Olympic Games. The eight day 'Olympic Guardian' operation has also seen rapier missiles stationed in Blackheath and fighter jets in the skies.
Advertisement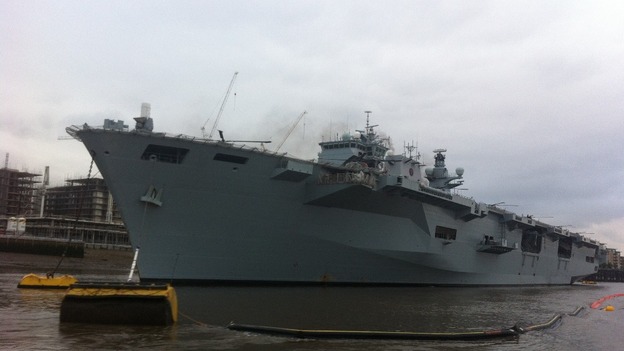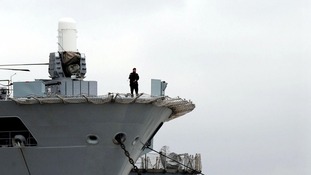 The Royal Navy's largest warship, HMS Ocean, sailed up the Thames today as the military stepped up security preparations for the Olympics.
Read the full story
Soldiers have taken to the rooftops of residential areas in London, as part of the capital's security training exercise ahead of the Olympics.
Advertisement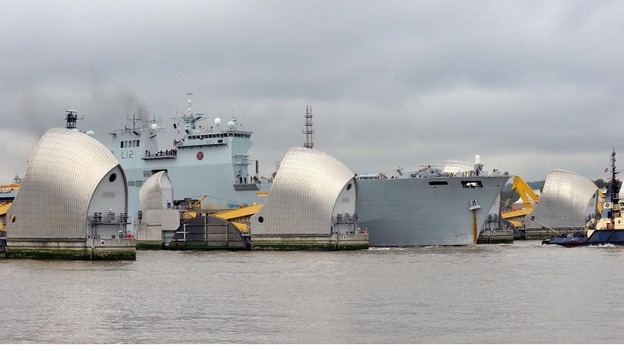 "To win in war and succeed in peace."
The crew of HMS Ocean will be hoping to fulfill the second half of the ship's motto, as they help defend the London Olympics.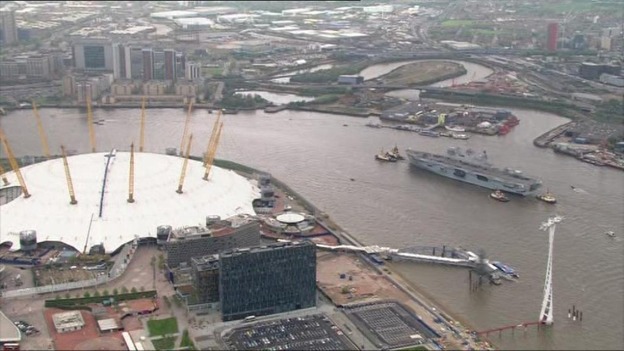 Royal Navy warship HMS Ocean has arrived in London to take part in security drills ahead of the Olympics.
The ship completes the military presence in London for Operation Olympic Guardian.
Typhoon jets have also been stationed at RAF Northolt, puma helicopters are operating from Ilford, and ground based air defences are being tested with dummy missiles at six sites across London.
Defence Secretary Philip Hammond was taken on board HMS Ocean by a landing craft, as it made its way up the Thames to Greenwich.
He addressed the ship's company in the hangar before taking a tour of the vessel.
He said:
"There are no specific threats to the Olympic Games but we're going to have very large numbers of foreign visitors in London."

"The world's eyes will be upon us and we want to make absolute sure that we do everything to maintain the security and safety of the Games.

"Ocean's presence on the Thames, I hope, will be a very great reassurance to people attending the Games."
– Defence Secretary Philip Hammond
Load more updates
Back to top