Drugs Raids
The Met launched a series of raids targeting drugs farms.
The Metropolitan Police has updated the number of arrests and drugs seized as part of Operation Hawk, the anti-drugs initiative launched today.
Arrests: 284
Warrants executed: 302
Cannabis Plants Seized: 2658
Cannabis Factories closed: 35
Over £2.6million worth of cannabis seized.
Toby Sadler joined police officers closing down a cannabis factory in Dulwich as part of the Met's Operation Hawk.
Advertisement
Police have now updated the number of arrests made during today's drugs operation to 150. They added they have now closed down 23 cannabis factories.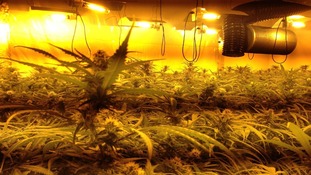 Officers from the Met have made 351 arrests and discovered 35 cannabis factories.
Read the full story
53 arrests have been made as the Met Police carried out a series of raids this morning against drugs gangs in London. The operation, which was called Hawk, found 11 cannabis factories as well as half a kilo of heroin at an address in Tottenham.
Back to top