Major delays on SW Trains
There has been more disruption for passengers travelling in and out of London this weekend after rail and underground services were cancelled or delayed.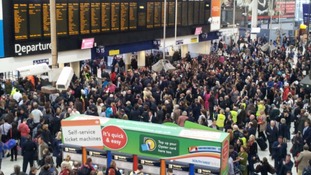 Passengers travelling in and out of London are facing delays this morning after rail and underground services were cancelled or delayed.
Read the full story
South West Trains say a problem at a level crossing between Barnes and Richmond means all lines will be blocked and services disrupted until around 6.30pm.
Advertisement
Apocalyptic scenes at London Waterloo.. No trains at all. Apparently delays are expected for the rest of the day/night. #southwesttrains
This train is actually too crowded to sit on the floor. Two hours of this is a physical endurance test. South West Trains are awful.
There are still major delays on South West Trains tonight after a signalling problem this lunchtime.
Mainline services between London and the south coast are being delayed by up to an hour. Some suburban services have been cancelled entirely.
A statement on the company's website says:
"Owing to an earlier major signalling problem in the Clapham Area, lines to/from Waterloo are open again but services across the entire South West Trains network may be subject to disruption, owing to the amount of time the lines were previously closed for.

"Disruption is expected until end of service 12/10.......We are sorry for the inconvenience caused to your journey today. "
– South West Trains
Disruption on South West Trains between London Waterloo and Barnes, and between London Waterloo and Wimbledon due to signalling problem.
All trains to and from Waterloo are at a stand-still at the moment.
Source: INRIX
Back to top