Six killed after house fire
A woman and four of her children have died after a house fire in Harlow, Essex.
Ajaib Hussain from the Harlow Islamic Centre said the whole Harlow community, Muslim and non-Muslim were sharing in the Shakoor family's loss.
For more on this story visit the ITV News Anglia website.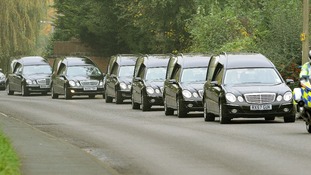 The funeral of a mother and five children who died in a house fire has been held.
Read the full story
Advertisement
We have received an overwhelming response to our book of condolence with people leaving such heartfelt messages to those who lost their lives so tragically.

In the last week the Harlow community has rallied round to support Dr Shakoor and pay its respects to the family in so many different ways.
– Harlow Council's leader Mark Wilkinson

For more on this story visit the ITV News Anglia website.
Essex Police initially treated the blaze as a suspected arson attack but no trace of an accelerant used to spark the flames has been found.
Although officers continue to investigate all possibilities it is now thought "increasingly likely" the fire was a tragic accident.
A book of condolence set up for the Harlow community to pay its respects to the family has passed 130 messages and will close on Friday.
Harlow Council has made arrangements for the book to be passed on to Dr Shakoor.
The funeral of a mother and five children who died in a house fire will be held today.
Sabah Usmani, a doctor, and her children - Hira, 12, Sohaib, 11, Muneeb, nine, Rayyan, six, and Maheen, three - died in the blaze in Barn Mead, Harlow, Essex, last week.
Father and husband Dr Abdul Shakoor was the only survivor.
Today Dr Shakoor will be joined by family members from Pakistan and the US for the funeral at Harlow Islamic Centre.
We would like to invite members of the general public to line the streets from the Harlow Islamic Centre to Parringdon Road cemetery where Sabah and her children will be buried in line with Islamic traditions.

This is a tragedy which has hit people across the community and of all faiths and it is important people can feel part of the funeral.
– Zia Rehman from Harlow Islamic Centre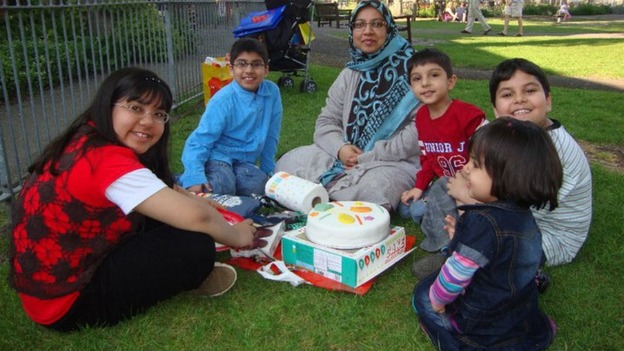 Funerals will be held today for Dr Sabah Usmani and her five children, who died in a fire at their house in Harlow.
Her husband Dr Abdul Shakoor was injured, but was released from hospital on Friday.
An interfaith service is due to be held tomorrow for staff at the Princess Alexandra Hospital where he works.
The cause of the fire is still being investigated.
Advertisement
People in Harlow have been remembering the mother and five children killed by a house fire on Monday. Prayers were said at the local church, while Sunday league footballers held a minute's silence. Abdul Shakoor, who was the only person to survive the blaze, has now been released from hospital.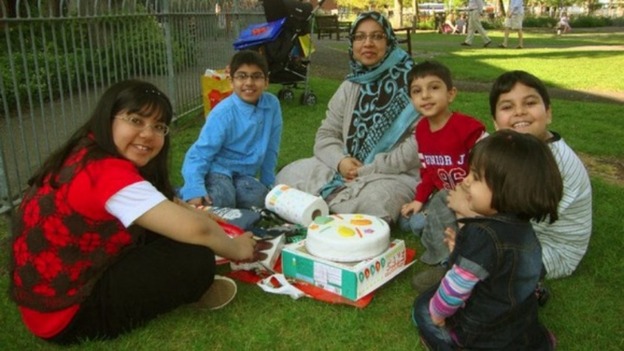 An appeal has been launched to raise funds to support the man who lost his wife and five children in a house fire.
The Princess Alexandra Hospital NHS Trust launched the fund in a bid to help Dr Abdul Shakoor.
Dr Shakoor, who works at the hospital, lost his wife Sabah Usmani and children Hira, 12, Sohaib, 11, Muneeb, nine, Rayyan, six, and Maheen, three, in the blaze at their home in Harlow, Essex, on Monday.
Prayer have been said at the Harlow Islamic Centre in memory of the family and in a show of support for Dr Shakoor.
Melanie Walker, the hospital's chief executive, expressed her condolences outside the multi-faith ceremony.
Melanie Walker Chief Executive of Princess Alexandra Hospital expresses her sympathy to Dr Shakoor after the death of his wife and children. For more on this story visit the ITV News Anglia website.
Councillor Mark Wilkinson, the Leader of Harlow Council, has extended his sympathy to Dr Shakoor on behalf of the Council, following the tragic death of three-year-old Maheen Shakoor:
On behalf of Harlow Council I would like to express our deepest sympathies to Dr Shakoor and our heart goes out to him.

I know that this news is another shock for the community as we had all so much hoped that young Maheen would pull through.

We can only imagine the pain Dr Shakoor is going through after losing his wife and all five of his children.

I'm sure the Harlow community will stay united and continue to do what it can to support Dr Shakoor, his colleagues and his friends.
On Thursday morning the Council opened a book of condolence at the Civic Centre which is available for the public to sign between 9am to 4.45pm Monday to Friday.
Load more updates
Back to top