Six killed after house fire
A woman and four of her children have died after a house fire in Harlow, Essex.
Maheen Shakoor, the young victim of the house fire in Harlow in Essex, who was being treated in hospital, has died.
The Mid Essex Hospital Trust released the following statement:
The Mid Essex Hospital Trust is saddened to inform that late this afternoon Maheen Shakoor, a young victim of the house fire in Harlow, has died.

Trust staff and the specialist care team from the St Andrew's Burns Centre offer their sincere condolences.

Dr Shakoor continues to recover from his injuries.
Tests carried out at the scene of a house fire which killed a woman and four of her children suggest that the blaze may have started accidentally.
Police investigating the blaze in Harlow, Essex, on Monday say they are not ruling any possibility out and are continuing to investigate the possibility that it was an arson attack.
However, early results suggest the blaze started in the lounge at the rear of the house and that no accelerant, such as petrol, was used.
Advertisement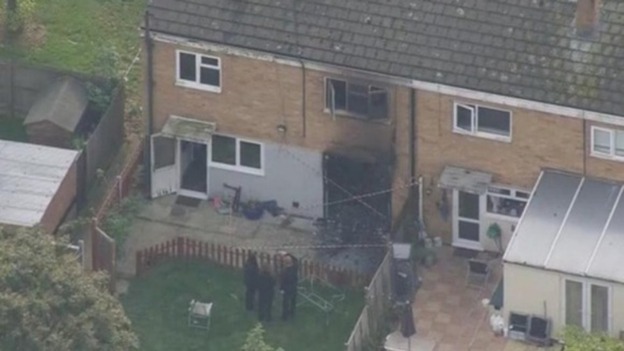 Detectives investigating a house fire which killed five members of the same family have said so far there is no evidence to suggest that an accelerant was used to trigger the blaze.
In a statement released today Essex Police also revealed that the fire appeared to have taken hold in the lounge area which is at the rear of the property.
The ferocity of the blaze has made the forensic work more challengingForensic investigations are still underway and is soon to move away from the scene of the fire. For more on this story visit the ITV News Anglia website.
An inquest into the deaths of the family who died in a house fire in Harlow on Monday was opened and adjourned in Chelmsford this afternoon.
Sabah Usmani, her sons Sohaib, 11, and Rayan, six, and 12-year-old daughter Hira died at the scene in the early hours of Monday.
A third son, Muneeb, 9, and a second daughter Maheen were rescued by fire crews and taken to hospital in a critical condition but Muneeb later died.
Post-mortem examinations showed that each member of the family died of burns and inhalation of fumes. For more information go to ITV News Anglia site.
I would like to extend my sympathies to all of the people who know those who died in this terrible fire and to Dr Shakoor and other family members.
– Deputy Coroner Eleanor McGann
Harlow Council is to open a book of condolence at the Civic Centre tomorrow so that people can pay its respects to the family who lost their lives in the recent fire at Barn Mead.
Sabah Sa-bar Usmani Uz-marni, her eldest daughter and three sons, all died in the fire early on Monday morning.
Three year old Maheen Ma-heen Shakoor Shaa-kur is still in a critical condition at Broomfield Hospital in Chelmsford.
We know how hard this tragedy has hit the local community. This is a time when people want to show those affected that they are thinking of them and pay their respects to those who have lost their lives.
– Councillor Mark Wilkinson, Leader of Harlow Council

For more on this story visit the ITV News Anglia website.
The father who lost his wife and four children in a fire has moved to the same hospital where his daughter, his only surviving child, is being treated.
Dr Abdul Shakoor fought to save his family from the fire at their home in Harlow in the early hours of Monday.
Phil Bayles reports on the police investigation and the reaction of the local community.
Advertisement
After the deaths of four children in a house fire in Harlow, Essex Police said rumours that this blaze and the burning of the Ford Focus nearby, were caused by a serial arsonist, seemed untrue.
School friends of the children who died will be offered counselling, Essex County Council said.
A spokesman said they would ensure community and religious representatives were also on hand to help.
A book of condolence for members of the Shakoor family will be opened at the Princess Alexandra Hospital.
There is no information to suggest any trend in Harlow for fires being deliberately started in vehicles.

Essex Police continues to keep an open mind about how both the house fire and the fire in the car may have started and indeed whether there are any links between them, aside from their proximity.
– Essex Police spokesman
The Head of the Essex and Kent Serious Crime Directorate says he has rarely dealt with a more horrifying crime.
"In the history of Essex Police seldom has there been an incident of this gravity in which five people, four of them children, have lost their lives.

"I would like to stress that the father of these children was in the property at the time and fought hard to save his family in appalling conditions.

"He is being supported by specially trained family liaison officers and, as you would expect, is in severe shock."
– Assistant Chief Constable Gary Beautridge
Family friend Parvez Hamid says he has no idea "why such a thing would happen to such a nice family".
Click here for a video clip of Mr Hamid talking to ITV1's Daybreak.
It is understood that the children's father Abdul Shakoor - who suffered minor injuries as he fought to rescue his family from the blaze - has been transferred to the Broomfield Hospital in Chelmsford.
His three-year-old daughter Maheen is being treated in the hospital's specialist burns unit and is said to be in a critical but stable condition.
Load more updates
Back to top