London girl cuts hair for charity
9 year old Cidney Miller cut her locks to raise funds for the hospice which cared for her grandmother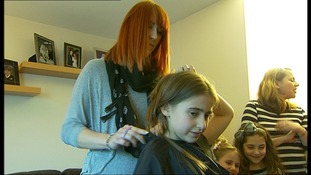 A nine-year-old schoolgirl spent Sunday having her long locks cut off to raise money for charity.
Read the full story
9 year old cuts hair for charity
Nine-year old Cidney Miller has had a rather drastic hair cut putting her on track to raise £5,000 for the hospice which cared for her grandmother. She'll also be donating her hair to a charity which makes wigs for children.
Advertisement
Back to top