Boris Johnson in India
London Mayor Boris Johnson is on a six-day trip to India to promote business links with London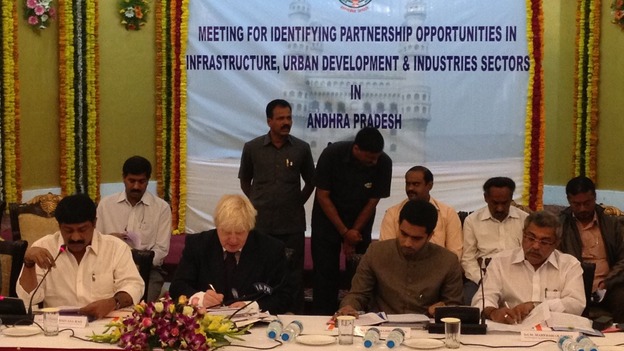 British companies should have access to India's booming markets, Boris Johnson said today as he appealed to the country's government to relax strict laws designed to protect small businesses.
The London Mayor said British retailers, keen to sell to India's burgeoning middle-class, could actually help alleviate poverty by providing cheaper goods.
At the moment the likes of John Lewis, Sainsbury's, and Tesco are unable to access the Indian market because of strict laws preventing retailers from selling more than one branded product.
The law means high-end fashion labels such as Gucci or Prada can open boutiques in India because they only sell their own label.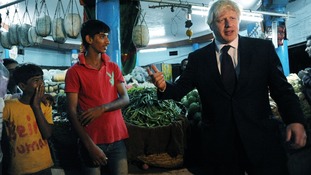 London Mayor Boris Johnson has revealed plans to create an "Aerotropolis" in the Thames estuary if his controversial new airport is built.
Read the full story
Advertisement
Boris Johnson has revealed plans to create an "Aerotropolis" around his controversial Thames estuary airport. @londontonight
Boris Johnson tells Indian business students the British media is "one of the glories" of our country. @londontonight
Boris Johnson tells students an EU referendum should offer the British public a new relationship with Europe. @londontonight
The Mayor of London may be in India to bring trade to London, but he's exploring the idea of exporting the capital's own transport expertise.
Boris Johnson has suggested that TFL specialists could share the lessons that London learned during the Olympics with India.
Our Political Correspondent Simon Harris reports.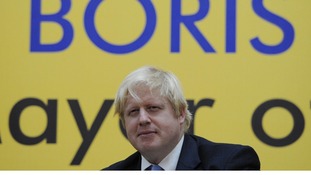 Boris Johnson waded in to the row between steel tycoon Lakshmi Mittal and the French government today.
Read the full story
London mayor Boris Johnson is addressing business leaders in the Indian capital Delhi. @londontonight
One businesswoman said her husband: "loved London so much he chose it as his final resting place" Unique endorsement! @londontonight
The mayor called for a fully-fledged free trade deal between India and the EU to abolish tarfiffs. @londontonight
Advertisement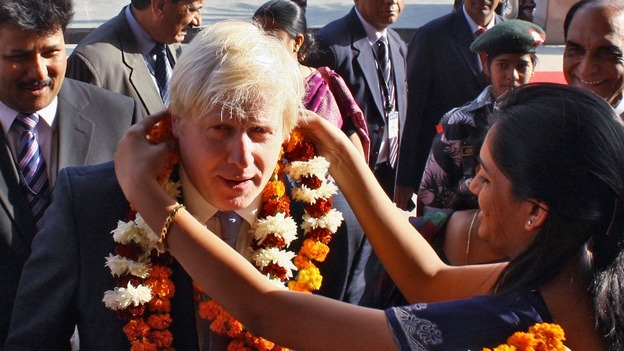 Mayor Boris Johnson is on day three of a six day tour of India to promote business ties.
He will give a keynote address for a senior Indian business audience in Delhi before departing for Hyderabad.
The Home Office has responded to Boris Johnson's calls for a change to visa rules, to allow Indian students to work after their UK study is over.
"The student visa regime we inherited was open to widespread abuse. It neither controlled immigration nor protected legitimate students from poor quality sponsors. Our radical reforms are tackling these problems head-on, while making sure Britain remains open for business. The UK has some of the very best universities in the world and talented international students are welcome here. Indeed, there is no limit on the number of students who can come to the UK.
Put simply, all those who can speak basic English and have sufficient funds and qualifications can come. And those who can get a graduate job earning more than £20,000 can stay to work after their studies. That is why it is no surprise that UCAS acceptances of international students are up 4% this year. As the Mayor of London has said 'the vast majority of Indian students do get a visa, 75% of them get one pretty much straight off'".
– Home Office spokesman
Load more updates
Back to top