'Empty' plinth celebrated
Trafalgar Square's fourth 'empty' plinth is being celebrated in a new exhibition.
Mayor of London Boris Johnson says the fourth plinth has become an important part of London's art scene:
"I am immensely proud to support the Fourth Plinth, which has become a must-see cultural attraction for London, one that underpins the capital's status as a great world city for art. Just a few minutes walk away from Trafalgar Square itself, this exhibition promises a fascinating journey through the work of some of the best international artists working today."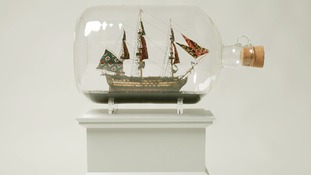 Advertisement
It stood empty for more than 150 years - an empty plinth whose intended artwork was never completed.
But over the last 14 years, the fourth plinth in Trafalgar Square has hosted some of the world's most feted contemporary art.
Now its role in the arts world is being formally celebrated, in a special exhibition at the Institute of Contemporary Arts.
Back to top