Fare hike takes effect
Fare increases on London's trains, tubes and buses have come into effect today.
The Labour members on the London Assembly have criticised London mayor Boris Johnson for putting public transport fares up by 4.2%. The rise is above the rate of inflation for the fifth year in a row.
Today Boris raised transport fares above inflation for the fifth year running. People are now paying an extra £72 for an annual Zone 1-4 travel card. Boris Johnson's council tax cut amounts to just 7p a week per household. This is an insult to hard-working Londoners who are already struggling with a triple whammy of rising food, fuel and rent costs.
– John Biggs, Labour London Assembly member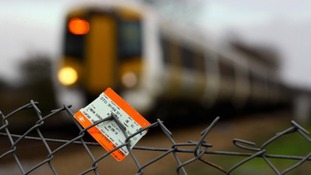 This is a table of rail fare rises, comparing the price of a 12-month season ticket bought in December with one bought from today.
Read the full story
Advertisement
National
The Association of Train Operating Companies (ATOC) has defended the way rail companies apply the fare rises that Government policy allows them. While rail fares can only go up by inflation plus 1% that is the average figure which is why some fares have risen by much more today.
Edward Welsh, ATOC spokesman told ITV News: "Just as they might increase them above 4.2% they have to de-crease them elsewhere.
"It's like a traditional pair of kitchen scales. The Government ensures that all the fares come back to 4.2%."
Around noon, Tube travellers, who have also seen fares rise by an average of 4.2% today, were badly affected by a signal failure at Baker Street in north-west London.
This meant that Metropolitan services were suspended between Baker Street and Aldgate, while trains on the Circle Line and on the Hammersmith & City Line were severely delayed.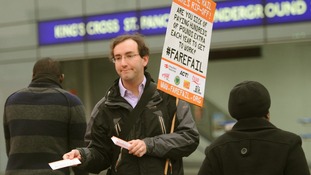 The mid-winter will be bleaker for millions of rail travellers today as inflation-busting fare rises take effect.
Read the full story
Advertisement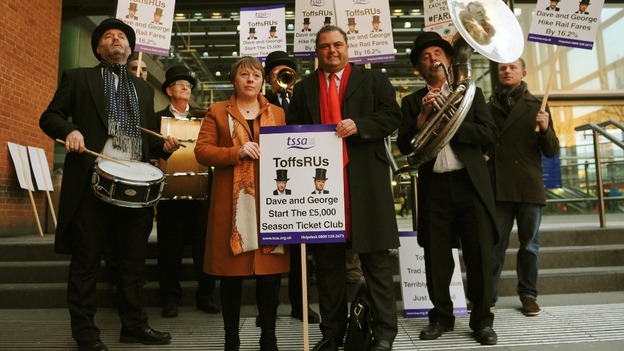 Shadow transport secretary Maria Eagle joins TSSA General Secretary, Manuel Cortes and other rail campaigners from the transport union as they demonstrate outside St Pancras station as regulated fares, which include season tickets, have risen by an average of 4.2%.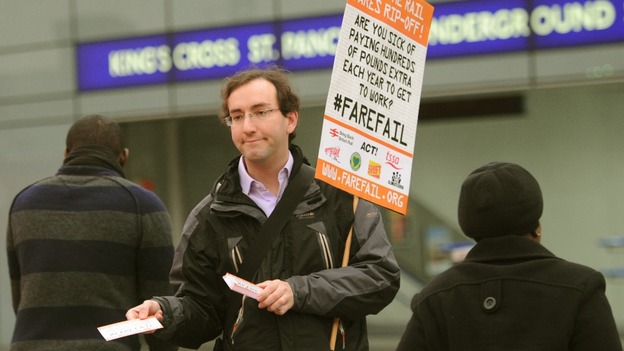 Commuters heading back to work today are experiencing above-inflation fare increases. Tube and bus journeys have gone up by four percent, while Boris bike hire charges have doubled from one pound a day to two pounds.
Back to top