Londoner death in Thailand
A 26-year-old man has been arrested by Thai police after a Londoner was shot dead at a New Year's Eve party on a beach in Thailand. Stephen Ashton, who was 22, was reportedly caught in the crossfire between rival gangs.
The man accused of killing a Surrey city trader duing a New Year's Eve party in Thailand said today he wanted to say sorry to his family.
Speaking to our correspondent in the cells ahead of his court appearance today, he said he knew he'd done wrong.
Stephen Ashton was shot on the island of Koh Phangan. Angus Walker reports from Thailand.
A man has appeared in court in Thailand accused of shooting dead a tourist from Purley during a New Year's Eve party.
Ekkapan Kaewkla, who is 26, has been charged with killing Stephen Ashton, who died after he was hit by a stray bullet during a fight outside a bar on the island of Koh Phangan.
ITV News correspondent Angus Walker was in court on the neighbouring island of Koh Samui and spoke to the defendant before the trial.
Advertisement
A family from South London are beginning their new year mourning the loss of a son and brother.
Stephen Ashton was celebrating New Years Eve in Thailand, when he was shot dead.
It's believed the 22 year old was shot accidently, in a row between two Thai gangs.
Police there have arrested a 26 year old man.With the latest here's Piers Hopkirk.
National
Stephen Ashton's MP Richard Ottaway said he had been in touch with the Foreign Office to check that everything was being done to support the investigation.
The MP, who chairs the Foreign Affairs Select Committee, has also contacted the family to extend his condolences and offer any help that he can.
He said:
The UK ambassador to Thailand will be visiting the scene of the crime tomorrow.

I have written to Mr Ashton's family to offer my help in any way that I can.

I am determined to ensure that justice is served and that whoever is responsible for this heinous act is held to account.
I understand that under Thai law the authorities have up to 84 days to bring charges and there is a bit of a history of this time being taken in other cases.

It may be some weeks before charges are finally brought.
National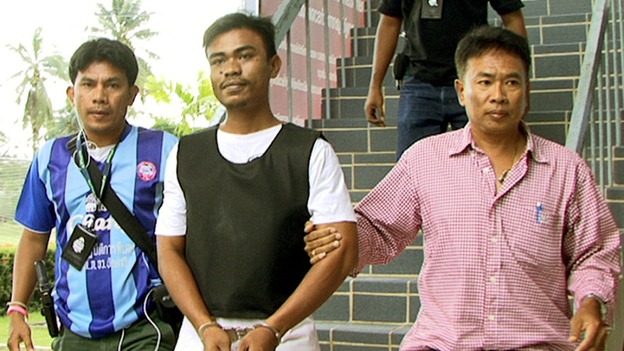 Ekkapan Kaewkla is the man arrested by Thai police after British tourist Stephen Ashton, 22, was shot dead at a New Year's Eve party on a beach at Koh Phangan
Police said they had several witnesses and enough evidence to prosecute the 26-year-old suspect.
National
A man has allegedly admitted to unintentionally killing a British tourist at a New Year's Eve party on a Thai island, according to the Bangkok Post.
Stephen Ashton, 22, was shot dead on Koh Phangan and earlier 26-year-old Ekkapan Kaewkla was arrested in connection with the shooting.
The Bangkok Post reported that Mr Kaewkla said: "My group was outnumbered so we ran outside the bar. I drew out a gun and fired a shot into the bar aimed at my rivals.
"But it turned out that the tourist was hit. I'm sorry for the incident that occurred and I am ready to be punished for what I have done."
Advertisement
National
Thai police say that the suspect they have in custody has confessed to the killing of Stephen Ashton.
It seems that the British tourist was simply in the wrong place at the wrong time.
The island is famous for its New Year and Full Moon parties but also notorious for drugs, crime and gangs.
It is with real sadness that we have learnt of the tragic death of Stephen, one of our former students, over the New Year. Our thoughts, and the prayers of many within our community, are with his family and friends at this difficult time.
– rIDDLESDOWN cOLLEGIATE SPOKESPERSON
Statement issued by the Foreign & Common wealth Office on behalf of the family of Stephen Ashton following his tragic death in Thailand on New Years Eve:
As a family we are completely devastated by the loss of Stephen from our lives. He has been taken away from us in such cruel and tragic circumstances in which he was an innocent bystander simply enjoying New Year celebrations.

We are comforted in the thought that he was having a fantastic time with friends after such a difficult period following the loss of his much loved dad who passed away from a brain tumour in 2011 and the loss of his granddad a few months earlier.
We were all so proud of him; he was a much loved son, brother, grandson and nephew. He will be truly missed by his family but also by the many friends he made during his life. We cannot comprehend how someone can carry out such a reckless act, giving such little value to human life.

We ask that our privacy be respected to allow us to grieve.
National
Thailand shooting victim Stephen Ashton, 22, was a regular at the Rectory pub in Brighton Road, Purley.
Deputy manager Matthew Hitchmough said:
He had been coming in here for quite some time, and was bubbly - he always had friends and girls round him.

I didn't know him particularly well, just to say a few words to, but he was a nice man - I can't say a bad word about him.

It's certainly a shock to hear this has happened, I know that a few of the people who come in go to Thailand for Christmas and new year.
Load more updates
Back to top