Helicopter crash survivor speaks
A survivor from last week's helicopter crash in Vauxhall - in which two people died - has today spoken of the moment the craft fell from the sky and exploded right in front of him.
Amanda Wood says her brother may still be alive if he had not been so conscientious and determined to be early for work @itvnews
Sister pays tribute to brother Matthew Wood who was killed in helicopter crash as walked to work @itvnews
St George Wharf Development resident Yvonne Kalagbor has been left unable to return home after the area was cordoned off following the fatal helicopter crash
Advertisement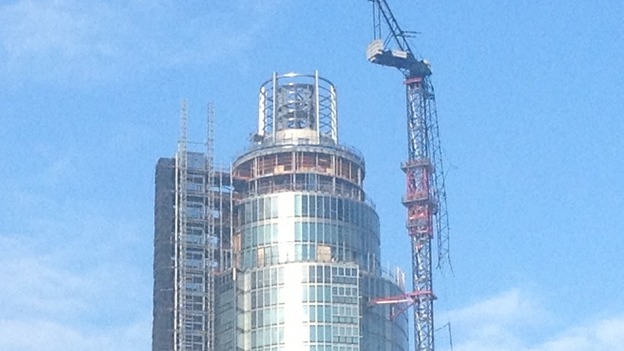 The broken jib of the crane is still hanging from the side of St George Wharf Tower
A friend of the pilot who died after crashing his helicopter in Vauxhall yesterday has dismissed reports that he lost control of his aircraft seconds before hitting a crane. Captain Pete Barnes was one of two men who died. The other was a 39-year-old from south London. Jamie Shepherd reports.
London Mayor Boris Johnson says it's too early to draw any conclusions on whether there should be more restrictions on additions to the capital's skyline
"What we're going to be doing now - the Air Accidents Investigation Branch of the CAA is going to be looking at all those kinds of questions''
"Was that in any way responsible for the crash? Clearly, we'll want to study that and form our conclusions. I think it's all a bit premature, frankly."
– London Mayor Boris Johnson

The Mayor was speaking in Croydon, south London, after announcing a £1 billion investment for a redevelopment plan in the area.
Police have named a man who was killed when a helicopter hit a crane and crashed in Vauxhall during this morning's rush hour. He was Matthew Wood, who was 39 and from Sutton.
The pilot, Peter Barnes, was also killed. Ronke Phillips spoke to eyewitnesses who saw the drama unfold.
Advertisement
Some roads are still closed following the helicopter crash, and Vauxhall bus station is still closed.
The following buses are on diversion: 77, 87, 88, 156, 196, 344, 360
In addition, routes 2, 36, 185 & 436 (southbound) are unable to serve the bus station so are serving a temporary stop on Bridgefoot (south side Vauxhall Bridge).
TfL is investigating whether temporary bus stops could be placedat Vauxhall Bridge to help serve the area whilst the bus station remainsclosed, and additional staff will remain at Vauxhall bus station throughout thenight to help direct passengers to alternative travel options.
London Ambulance Service say that as well as the two fatalities, five people were taken to hospital - four for minor injuries and one for a broken leg; another seven people were treated at the scene.
Metropolitan Police have named a man who was killed when a helicopter hit a crane and crashed down onto a road in Vauxhall during this morning's rush hour.He is Matthew Wood, who was 39 and from Sutton. Next of kin have been informed.
Tributes have been paid to the pilot of the helicopter, Captain Peter Barnes, a hugely experienced airman with an incredible career in the skies, from air ambulance pilot to flying for big budget films.
Sejal Karia reports
Load more updates
Back to top