Crossrail 2 plan unveiled
Business group London First have unveiled a plan for a new underground rail route across the capital.
Could London have a new underground line by 2030? And does it need it?
Plans for a diagonal route from the north east to the south west went on show today, with the catchy title of Crossrail 2.
Our Political Correspondent Simon Harris has more.
Transport for London has backed the plan to build a second Crossrail link across London. The organisation says a new link is needed because of population growth and the extra passengers using Euston after the High Speed Two rail link is finished to Euston.
But TfL's Managing Director for Planning, Michele Dix, says construction on Crossrail 2 will only start after the first Crossrail link is finished in 2018.
Advertisement
Val Shawcross, the London Assembly Labour Transport spokesperson, responded to the proposal to build a new North-South Crossrail link:
"This is critical to continue London's economic success. London's business leaders and politicians from all parties are supportive of these plans in principle. We all recognise the need to carry on expanding London's public transport network well into the 21st century."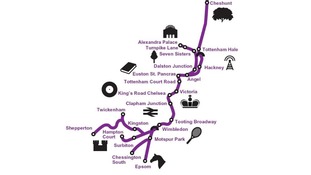 The London First group have unveiled a plan for a new underground railway connecting the north-east of London to the south-west.
Read the full story
Back to top