£913 million cycling plan
Boris Johnson has set out his vision for the future of cycling in the capital.
The Mayor's cycling plans also include:
Better segregation between bikes and other vehicles;
Improvements to existing "superhighway" bus routes;
Improvements to junctions deemed the least safe for cyclists, including Blackfriars, Vauxhall and Elephant & Castle;
Encouraging more out-of-hours deliveries by lorries to improve cyclist safety;
20mph speed limits for all traffic on some cycle routes;
An electric bike hire scheme, similar to the existing Barclays Cycle Hire, will be trialled.
Edmund King, the President of the AA, has questioned whether the plans will work in practice.
Boris plans for Embankment cycle lanes look great but just question how elevated cycle lane on Westway would work? http://t.co/bsTqYasZ2i
@rosslydall Wouldn't it be better to have dedicated cycle lane at ground level rather than on an elevated dual carriageway on Westway?
Advertisement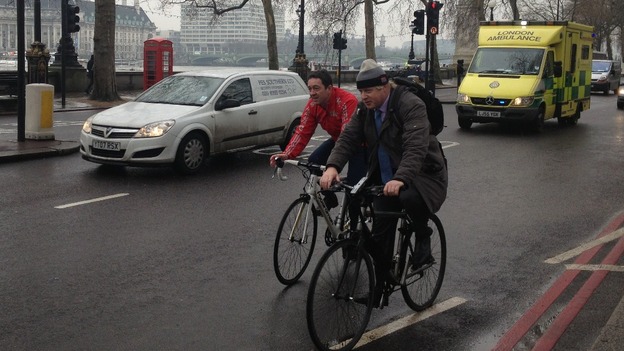 The Mayor's proposed "Crossrail Superhighway" will involve taking a lane away from motorists on the Westway flyover.
Boris Johnson claims there is "ample scope for this change" as traffic on this stretch has dropped by 22 percent over the last decade.
The 15 mile route, from west London to Barking, will also involve building a new bike and pedestrian bridge over the West Cross Route and railway line.
Boris Johnson said:
"My flagship route – a true Crossrail for the bicycle – will run for at least 15 miles, very substantially segregated, from the western suburbs, through the heart of the Capital, to the City, Canary Wharf and Barking in the east.
"It will, we believe, be the longest substantially-segregated continuous cycle route of any city in Europe. It will use a new segregated cycle track along, among other places, the Victoria Embankment and the Westway flyover.
"The Westway, the ultimate symbol of how the urban motorway tore up our cities, will become the ultimate symbol of how we are claiming central London for the bike."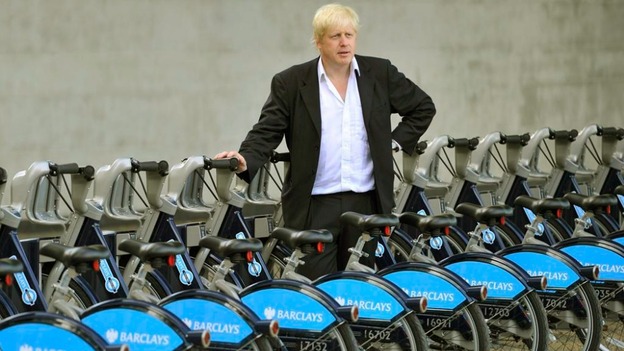 The capital already has a number of Cycle Superhighways - routes on main roads, designed for fast commuting in and out of central London.
But the Mayor's plans now include new "Quietways" - routes designed for more leisurely rides on low-traffic side streets and which will be more suited to new cyclists.
The Mayor's plans include a so-called "tube network for the bike" - a number of joined up cycle routes, some of which will run in parallel with underground, rail and bus routes.
These will be signed and branded to match, with names like the "Bakerloo Superhighway" and the "Circle Quietway".
by Simon Harris, Political Correspondent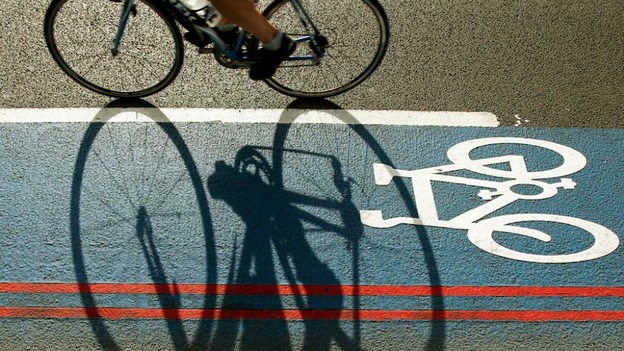 Boris Johnson says he wants to de-Lycrafy cycling in London and make it a "normal...part of everyday life".
The Mayor is launching his vision for cycling in the capital - including a new "Crossrail for the bike", running for 15 miles from Barking to White City, including a section on the Westway flyover.
Under the plans, some one-way streets will become two-way for bikes, and cycle lanes will have names to mirror bus routes or tube lines.
But motoring organisations are likely to have thoughts on the Westway losing a lane to vehicles.
And there is another potential hole in the Mayor's ambitious plans - most roads are controlled by London's boroughs not by City Hall.
Advertisement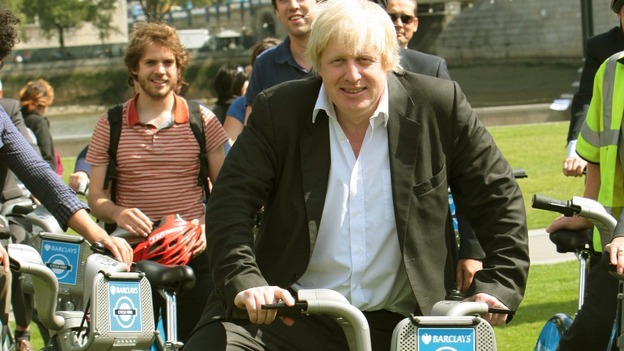 The Mayor of London will announce details of his £913 million vision for cycling in the capital.
Boris Johnson is expected to outline a long term plan that will increase cycle safety and accessibility in the city.
Load more updates
Back to top