Father and son die in French Alps
A father and his son have died while walking in the French Alps. Peter Saunders from Buckingham is believed to have fallen to his death trying to rescue his 12-year-old son.
A headteacher has paid tribute to the 12-year-old boy who died with his father in the French Alps.
The bodies of Charlie Saunders and his father, Peter - who were from Buckinghamshire - were found together by rescue services yesterday.
This report from Ronke Phillips.
The headteacher of a twelve year old boy who died while on a skiing holiday has paid tribute to him. Charlie Saunders and his father fell to their deaths in France over the weekend. Ronke Phillips is at Charlie's school in Buckingham and has just sent this report.
Advertisement
Glen Goodman reports on the death of Peter Saunders and his son Charlie, from Buckingham.
National
(Charlie was) a talented and very motivated boy who made a huge impact on the lives of every one who knew him.

He was a popular boy and threw himself into school life with 100% effort.

Charlie loved a wide range of sports and especially the great outdoors.

He will be hugely missed and we send our thoughts and prayers to his family, especially his mother and sister, at this tragic time.
– David Hudson, the headmaster of Charlie Saunders' school, the Royal Latin in Buckingham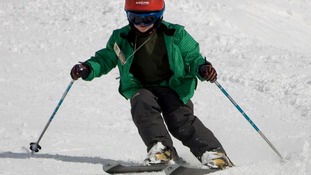 A father and son who died on a walking trip in the French Alps have been named by the Foreign Office as Peter and Charlie Saunders.
Read the full story
Back to top