Hospital care criticised
The Care Quality Commission has found that three London hospitals failed to meet standards on treating patients with dignity and ensuring they were fed properly.
The health care watchdog says fewer hospitals are treating patients with respect and dignity.
Newham Hospital met just one of the five basic standards for looking after patients, being criticised for not always protecting patients from abuse, respecting a patient's privacy, or making sure they are eating and drinking. Ronke Phillips reports.
The West London Mental Health Trust which runs the Limes nursing home has said it has taken action after a Care Quality Commission report found that its staff were not trained in dealing with allegations that patients had been abused.
"Some of the staff interviewed didn't fully understand the process of reporting safeguarding incidents to the local authority safeguarding team and lacked training in this important area. We took immediate action by sending an information alert to staff reminding them on how to recognise the signs of abuse and how to report it. In addition we held focus groups and we run regular safeguarding training for all staff members who now discuss any incidents which have occurred at their weekly team meeting."
– West London Mental Health Trust
Advertisement
The trust which runs Chase Farm Hospital says it has taken action following a Care Quality Commission report which criticised its staffing levels and record keeping. Barnet and Chase Farm Hospitals NHS Trust said a second inspection last month had shown that standards had been improved.
"Following the inspection the Trust took immediate and appropriate action to meet these standards. Following an unannounced inspection in February 2013 the Trust was found to be compliant in the staffing and records standards."
– Barnet and Chase Farm Hospitals NHS Trust
Barts Health NHS Trust, which runs Newham University Hospital, said action has been taken to ensure patient care was improved after the hospital failed to meet four out of five standards in patient care.
"A CQC inspection in August 2012 found minor concerns around the care, privacy and nutritional support provided to elderly patients at Newham University Hospital and we have since put a comprehensive action plan in place to address these concerns."
– Barts Health NHS Trust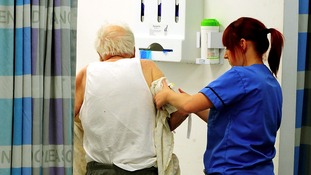 A report has found that two London hospitals and a nursing home failed to meet standards for looking after patients.
Read the full story
Back to top