The Budget
The Chancellor George Osborne has outlined his tax and spending plans in the budget.
Will the Budget measures help London's housing market?
There was some good news in the Budget if you are trying to buy a home in the capital.
The Government says it can help buyers with finding the money to get on the property ladder. But people who rent may still struggle.
Simon Harris reports.
London Mayor backs Chancellor's housing scheme
The London mayor Boris Johnson said he "warmly welcomed" the Chancellor's announcement that homebuyers would get help to get loans.
Advertisement
George Osborne announces homebuyers' scheme
Evening Standard apologises after premature Budget report
The editor of the London Evening Standard has apologised today and launched an investigation after details of the Budget were published on Twitter before the Chancellor's speech. Sarah Sands has said a staff member had been suspended.
The paper had been given a copy of the Budget but agreed not to publish it until the Chancellor had presented it in the House of Commons. However, a copy of the Standard's front page appeared online before George Osborne spoke.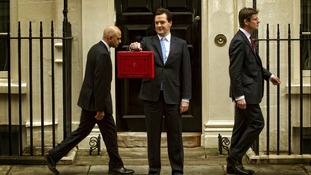 Harlow MP praised for fuel duty campaign
The Harlow MP Robert Halfon was praised by the Chancellor George Osborne for campaigning for a measure in the Budget to scrap the fuel duty rise scheduled for September.
Advertisement
Back to top