Margaret Thatcher's funeral
The nation will pay its final respects to Baroness Thatcher as thousands of people are expected to line the streets of central London. The former prime minister will be carried with full military honours to St Paul's Cathedral.
National
Magnificent send-off for Margaret Thatcher. Rightly so for longest-serving British PM of 20th Century. RIP.
National
Chancellor George Osborne tweeted that today was " a moving, almost overwhelming day".
A moving, almost overwhelming day.
Osborne was earlier seen wiping away a tear during an anecdote told by the Bishop of London at Margaret Thatcher's funeral.
Advertisement
National
Former chief policy adviser to Margaret Thatcher, John Redwood, described her as "the best boss I ever had".
"We had to work very long hours to keep up with her," he said.
Fighting back tears he said:
The most moving moment inside the cathedral was when they opened up the great doors and we could hear the noise outside.

It was exactly the kind of tribute you would hope for - we are grieving a loss but also commemorating a life well-led, an extraordinarily active life.
Asked about protests, he simply said: "It is a free country."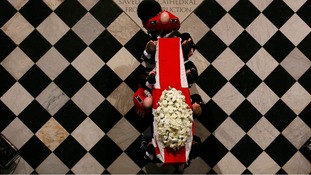 Baroness Thatcher was honoured with a ceremonial funeral at St Paul's Cathedral in the presence of the Queen and dignitaries.
Read the full story
We would like to thank Londoners and visitors to the city for their co-operation today, particularly in relation to travel disruptions. We are also grateful to those members of the public who spoke with us prior to the event and enabled us to facilitate their peaceful protest in a way which did not impact either their protest or those who wished to pay their respects.It is as ever testament to the public that yet another large scale ceremonial event, viewed by the world's media, has been successful.
– Commander Christine Jones
All roads closed for Baroness Thatcher's funeral have now reopened.
Advertisement
National
Protesters in Ludgate Circus near St Paul's cathedral booed and jeered as Thatcher's funeral procession made its way past. Many chanted: "Waste of money" whilst war veterans on the other side of the street applauded and cheered.
National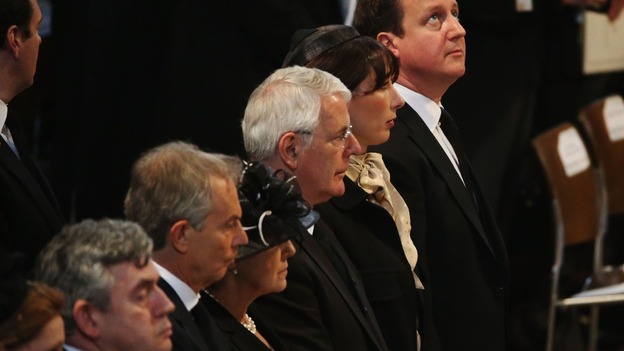 Former Prime Ministers and their spouses at Baroness Thatcher's funeral Gordon Brown, Tony Blair, Norma Major, John Major, Samantha Cameron and Prime Minister David Cameron.
National
National
Fitting tribute to the life of Margaret Thatcher. A privilege to be present in St. Paul's Cathedral to pay my respects.
A very moving service at St Paul's. Particularly nice to hear the crowds clapping in appreciation of a life's service
St Paul's full of love and unity for a great woman, stateswoman, mother, wife and grandmother, may she rest in peace
Load more updates
Back to top