CQC to change inspections
The Care Quality Commission is set to introduce radical changes to the way hospitals in England are inspected. Following on from the review carried out by Sir Bruce Keogh, it will be introduced by the end of the month.
National
Sir Bruce Keogh told ITV News that hospital chiefs who are "not perfectly suited" to their roles could be "replaced" as a result of a leadership assessment.
Emma Jones, the lawyer who represented 120 victims at Stafford Hospital and who is currently investigating 84 potential claims of abuse across nine of the 14 trusts including the daughter of a patient at Basildon Hospital, said:
Jeremy Hunt's statement that 11 trusts are to be placed into special measures, with immediate or urgent action necessary at all 14 trusts reviewed by Sir Bruce Keogh in order to protect patients, confirms that the appalling treatment identified at Stafford Hospital was not an isolated aberration but rather can be seen in hospitals throughout the UK.

We welcome the announcement that all 14 trusts have not been given a clean bill of health and that they will be reviewed in the next 12 months by the new Chief Inspector of Hospitals, Professor Sir Mike Richards.
The Secretary of State's statement is long on rhetoric and political point scoring but short on action. The Secretary of State needs to implement the recommendations of Robert Francis's report without further delay.

Anything less would be an insult to both our clients and the thousands of other patients who appear to have died needlessly as a consequence of a lack of the most basic standard of treatment and care.
Advertisement
The daughter of an 82-year-old woman who died in Basildon Hospital said she can not erase from her mind the image of "raw bits of meat" hanging from her mother's legs.
Joan Betts, from Essex, died after contracting septicaemia due to her ulcerated legs not being treated properly, according to her daughter Tina Tyler who believes her mother was "put to death". Mrs Tyler said:
They were in such a state you wouldn't have put a dog in that situation. You'd have put the dog down.

All I've got is this really horrible vision of my mum and her legs. I've not got a nice picture of her.

I don't have, in my head, a nice picture of my mum at the moment, because the last picture I saw of my mum was in Basildon with her bad legs because of what they done.

It wasn't a natural death for her. It was pushed upon her, and they're not going to get away with it.
National
Basildon and Thurrock University Hospital, one of the trusts heavily criticised in Sir Bruce Keogh's NHS review, said it "welcomes the findings" of the report.
In a statement, trust chief executive Clare Panniker said: "We take very seriously the areas identified as needing urgent and further action and are addressing them as a priority."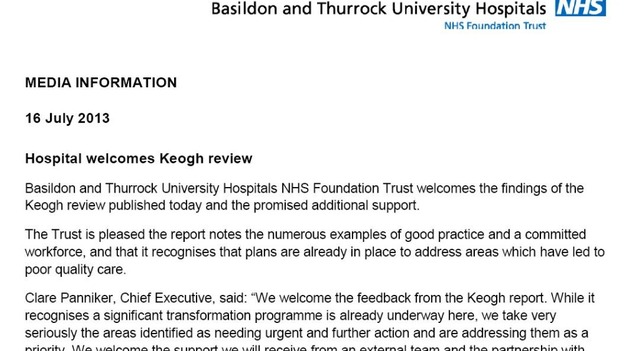 Trust chairman Ian Luder added: "We are absolutely committed to ensuring that we learn from the Keogh process, and to delivering long term solutions to issues and not short term quick fixes."
National
The Health Secretary has posted a tweet admitting things had "gone wrong" in the NHS, but he proclaimed that "transparency is disinfectant" after 11 hospitals were placed under "special measures" management:
Watershed day. Hard for Health Sec to admit things go wrong, but I'm determined to see poor care rooted out. Transparency is disinfectant.
ITV London's Rags Martel has reported that Basildon and Thurrock Hospital Trust was considered the "worst" out 14 trusts that had "fundamental breaches of care", a new report revealed today.
Advertisement
Postmortem examinations have found that a patient died of acute heart failure after being treated at Basildon Hospital Trust. The trust has said it is sorry that Philip Harvey's family is unhappy with the care he received.
A spokesperson said:
We offer our condolences to the family of Mr Phil Harvey for their sad loss and we are sorry they are unhappy with the care he received in this hospital.

Senior doctors and managers have met with Mr Harveys family and the Trust sent the family a written response to try to address their concerns.

The matter is now in the hands of the Ombudsman and we have provided all the information they have requested and are awaiting the outcome of their investigation.
Lynn Harvey's husband Phil died in October 2010 following complications from a triple heart bypass operation in September 2009 at Basildon Hospital's cardio unit.
Mrs Harvey claims that her husband caught an infection in his leg following the operation, and has criticised the treatment he received as being blase and hampered by unneccessary delay.
Health Secretary Jeremy Hunt today told the Commons which 11 hospital trusts are to be put in special measures and why.
Mr Hunt said "fundamental breaches of care" uncovered in the Keogh Review had led to these steps being taken. Mr Hunt said:
There were seven 'never' events in three years and concerns over infection control and overnight staffing levels.
National
The Health Secretary Jeremy Hunt has announced that 11 of 14 NHS Trusts investigated over higher than expected will be placed into "special measures", this means:
Each hospital will be required to implement the recommendations of the Keogh review, with external teams sent in to help them do this. Their progress will be tracked and made public
The Trust Development Authority or Monitor will assess the quality of leadership at each hospital, requiring the removal of any senior managers unable to lead the improvements required.
Each hospital will be partnered with high-performing NHS organisations to provide mentorship and guidance in improving the quality and safety of care.
Load more updates
Back to top