GCSE results day
GCSE results are out today. We'll be bringing you news from the capital as well as information about national trends.
National
The proportion of GCSEs awarded at least a C grade has fallen for the second year running.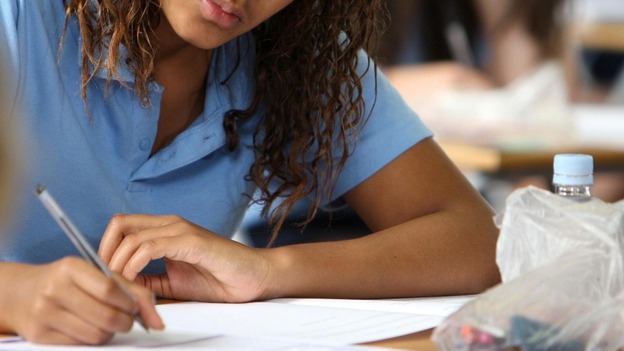 The number of entries who scored A*-C this summer dropped by 1.3% to 68.1% - the biggest fall in the exam's 25-year history.
Those gaining top grades has also fallen by 0.5% - with 6.8% achieving an A*.
National
There was a "dramatic" rise in the number of GCSE entries for modern foreign languages.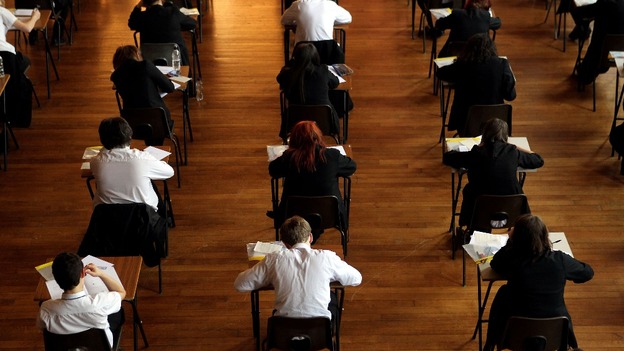 French entries are up by 15.5%, German up 9.4% and Spanish up 25.8%.
The introduction of the Government's English Baccalaureate, which is awarded to pupils who score at least a C at GCSE in English, maths, science, history or geography, and a foreign language, could be a reason for the rise.
Advertisement
National
The dip in GCSE results comes amid a major upheaval in the exams system and it is thought the following issues have contributed to the fall:
A rise in the number of pupils entering maths GCSE early or multiple times.
A revamp in science GCSE following a 2009 report that said the courses were too easy.
An increase in the number of pupils taking international GCSEs (IGCSE) in certain subjects.
National
The director of the Joint Council for Qualifications said "underlying factors" affected the dip in GCSE results but praised the "upturn" in the number studying modern languages.
There are many underlying factors affecting this year's GCSEs, including a sizeable increase in entry by 15-year-olds, new science specifications designed with greater challenge, early and multiple entry in mathematics and an increase in the number of students taking IGCSEs.

All of these have had an impact on entries and results.
This year's upturn in languages will be welcomed across the education sector and beyond. Not since 2008 have there been this many entries in languages.

However, it remains to be seen if this is the start of a trend and if more students decide to continue to study a language at A-level.
– Michael Turner, Joint Council for Qualifications director
National
Four brave pupils from from Trinity High School in Redditch opened their GCSE results live on Daybreak.
National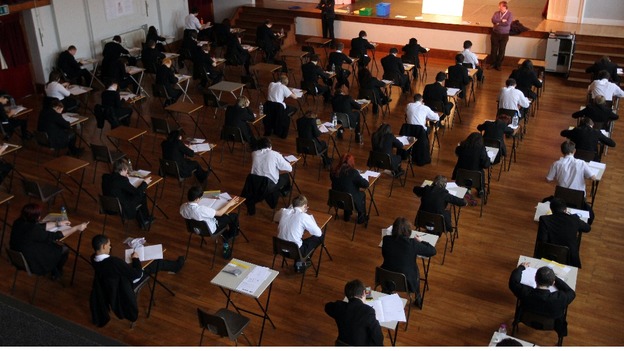 GCSE results could fall this year amid major upheaval in the exams system, it has been predicted.
Attempts to "secure standards" along with changes to key GCSEs and moves by students to sit different exams could combine to cause a drop in the pass rate, according to one education expert.
The prediction comes as teenagers across England, Wales and Northern Ireland prepare to receive their results.
Professor Alan Smithers, director of the Centre for Education and Employment Research at Buckingham University, said it was "likely" that results will drop this year.
Advertisement
National
In 2012 the proportion of GCSEs awarded at least a C fell for the first time in the exam's history, with 69.4% getting this grade or higher, down 0.4 percentage points on 2011.
There was also a fall in the proportion of GCSEs awarded the top grades and drops in the percentage of English, maths and science GCSE entries achieving passes at A*-C.
National
GCSEs are "not the be all and end" and there are numerous colleges, vocational courses and charities which will help pupils disappointed with their results get back on track, according to a Prince's Trust ambassador.
Wretch 32 aka Jermaine Scott Sinclair told Daybreak he did not do as well as he would have liked in his GCSEs and urged pupils with poor results not to give up.
Load more updates
Back to top