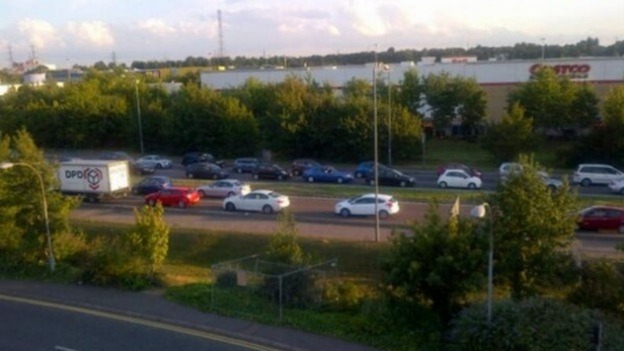 Police are continuing to question a man on suspicion of making a bomb hoax following claims which led to the Dartford Crossing being closed in both directions.
Kent Police said the 27-year-old foreign national had made threats of a suspicious device on board the coach he had been travelling on.
The incident led to motorists being caught in nine-mile long tailbacks after both the QE2 Bridge and Dartford Tunnels were closed for almost seven hours during rush-hour traffic on Friday night.
Releasing further information, police said they recovered a cylindrical device with wires inside a heavily sealed bag from the coach.
It was found after the force was called at 4.03pm to a report of a male pedestrian behaving unusually at the Dartford Crossing.
He had alighted from a coach which was Dover-bound and run to a rough area nearby, police said.
Security personnel at a nearby distribution depot detained the man and officers arrested him at 4.15pm before he was taken to a police station.
There he made threats as to a suspicious device on board the coach.
The vehicle, which had just gone through the toll booths, was evacuated along with the immediate surrounding area, which was extremely busy at the time.
The man also made further threats that there was an explosive device on another coach.
Officers stopped a coach at 6pm on the A20 at Dover and it was evacuated.
No threat was found and the occupants were later reunited with their coach to continue their journey.
The A20 reopened around 10.45pm.